Rhino-Back services Windsor Locks, Connecticut 06096
We Offer Expert Windsor Locks, CT Roofing
As a proud homeowner, you need a roofer in Connecticut that you can actually trust to give you the bottom line- no fluff, no runaround. Rhino-Back's management team has over 15 years of experience and has worked with hundreds and hundreds of happy homeowners to provide the best roofing services in Windsor Locks CT.
We specialize in all phases of the roof replacement process. Our family here at Rhino-back is dedicated to serving your needs in a timely manner with an emphasis on quality craftsmanship as well as a commitment to customer service excellence.
Our fully qualified staff is here to assist you with roof replacement services in Windsor Locks and are committed to our customer's satisfaction!
We are a Windsor Locks Connecticut Roofing Company with an A rating on Angie's List, and a 5 star rating on Google and Facebook. So if you're looking for a company that holds the highest standards for quality, craftsmanship and business reputation, you've come to the right place. It will be our pleasure to serve you!
If you need a Contractor in Windsor Locks CT, Call Rhino-Back at 860-217-1424 Today!
Windsor Locks CT as of 2010 had a population of almost 12,500 people and is the home of Bradley International Airport and the New England Air Museum. If you are looking for Windsor Locks CT roofing, give Rhino-Back Roofing a call today. We are a trusted Windsor Locks CT roofing contractor servicing Hartford County. At Rhino-Back Roofing, we service rubber & asphalt shingle Granby CT roof replacement. Rhino-Back works year round to ensure your Windsor Locks CT roofing project can be completed to ensure the safety of your home.
Services in Windsor Locks, CT
Get a Windsor Locks Roofing Estimate from Rhino-Back.
Easy Convenient Home Consultation in Windsor Locks
You can rely on Rhino-Back to solve many problems you may have. Contact our Windsor Locks Roofers for an easy, convenient home consultation. Every home is different. So we will inspect your property and put together a detailed scope of exactly what your home needs.
Real Labor and Material Warranty Backed by the Top Manufacturer
Another reason you can trust Rhino-Back is because we are one of only a handful of roofing companies in Connecticut with an exclusive certification with one of the industry's top manufacturers! If something goes wrong, you're backed with up to a 50-year labor and material warranty directly through the product manufacturer. A roof is only as good as the people who put it on and stand behind it. Most Windsor Locks home owners agree, they need a company that carries a real warranty!
View a few of our completed roofs near Windsor Locks below.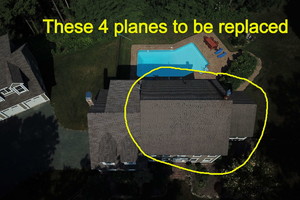 Granby, CT
Granby CT Roofing Replacement by a Roofing Contract Rhino-Back Roofing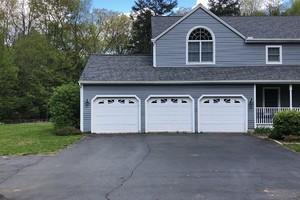 Granby, CT
Roof Replacement Granby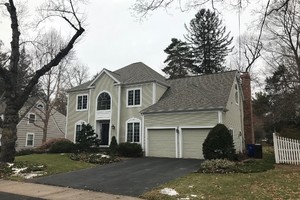 West Hartford, CT
Roofing project in West Hartford
Their attention to detail made them a step above any other roofing company
We had a wonderful experience with Rhino-Back Roofing. Mike, Tim and their team were amazing to work with. Their attention to detail made them a step above any other roofing company. We are very happy with the finished product of our roof and skylight . They left our yard and the work area spotless after the work was finished. We will definitely be using them again for future roofing needs and would highly recommend them for your roofing needs as well! Thank you again Mike and Team!
Emily H.
A rating
Love, love, love my new roof.
Love, love, love my new roof. An investment like this can be rather daunting but Rhino Back Roofing made it to easy. Out of the 5 contractors I reached out to, Mike spent the most time with us. He explained everything in detail, what he recommends, why he uses the products he does and answered all our questions. He is very knowledgeable and you can tell very passionate about his business. The team came and finished the roof in 1.5 days. They worked very hard, were very polite and did a good job cleaning up. The project manager Josh was onsite during the entire job and made sure everything was being done correctly and to answer any of our questions. The tiles we picked out look great on the house: Sedona Canyon. Its hard to tell from looking at a small sample. Mike worked with us, showed us multiple colors and also felt it Sedona Canyon would look good. Highly recommend Rhino Back Roofing. Thank you Mike, Josh and team!
Jutta G.
I'm glad we went with Rhino-Back and would absolutely recommend them to friends.
We just had our roof done, and were very pleased with RhinoBack. Mike and his team were great to work with and followed through to make sure we were completely satisfied with the new roof – even after paid in full. They were very responsive and came back a couple of times to make sure they cleaned everything up (had to wait for the snow to melt on the ground). We got several quotes for our roof, but I'm glad we went with RhinoBack and would absolutely recommend them to friends.
Trey & Kim S.
" Skillful and very efficient"
Kudos to the entire Rhino-Back Roofing team. Mike and Melanie did a great job for us. Starting at documenting the hail damage with the insurance company to answering all of our questions through out the whole project. The roofing team was careful of shrubs and property, skillful and very efficient through out the installation of multiple roofs on two structures. Management, staff, and tradesmen and women were consistently courteous and accommodating of our needs. Many thanks to all of you.
Roger & Diane H.
Rhino-Back Roofing was an absolute pleasure to deal with from start to finish
Rhino-Back Roofing was an absolute pleasure to deal with from start to finish. A phone call to them was promptly returned. Mike T scheduled an appointment to meet with my wife and I the next day. A dead tree fell on our roof and caused significant damage. Mike was able to assess the damage, recommend what needed to be done and assisted us with negotiating a settlement with our insurance company. The work was done as scheduled and completed in one day (strip damaged roof over two car garage, install ridge vent, replace shingles, replace gutters and check main roof. Clean-up was outstanding. It was a pleasure dealing with the foreman the day of the job. I am extremely pleased with the over-all experience and finished product. Rhino-Back Roofing has earned my highest recommendation.
Clay K.
No doubt we made the right decision
We highly recommend Rhino-Back Roofing! Mike Trouern-Trend and his team were fantastic. We had 3 other contractors look at our roof before choosing Rhino-Back, and we have no doubt we made the right decision! Part of our roof is a low pitch that was added onto the house- the roof installed on this part of the house was designed for a steeper pitch, and we had some leaking in the fall… Mike came over as a courtesy and helped us come up with a solution at that time, which got us through the winter with no issues. This spring, Rhino-back replaced our entire roofing system. Most of the house was shingles- we had a rubber roof installed on the low pitch section. Rhino-Back's team was quick, courteous, and cleaned up after themselves…. not to mention the new roof looks great! They followed up to make sure the property was spotless and we were satisfied- which it was and we certainly were! Save yourself the headache of trying to find the right roofing contractor and call Rhino-back!
Koren M.
We are thrilled with the results and would recommend Rhinoback Roofing to anyone and everyone.
We are extremely pleased with our new roof by Rhinoback Roofing. Out of all of the companies that bid on our roof replacement, Mike was the only one who took the time to explain every detail of the project, including his findings from inspecting our attic and covered porch areas. He thoroughly reviewed with us the superior quality of his product (Owens Corning) vs the shingles and underlayment used by other companies. Our own research confirmed what Mike had shared. The crew was fantastic - thorough, clean, polite, and fast! They completed our large project in a single day. We are thrilled with the results and would recommend Rhinoback Roofing to anyone and everyone. Mike and his team definitely go 'above and beyond' to ensure a high-quality result.
Linda C.
A rating
A truly amazing, unexpected experience!
A truly amazing, unexpected experience! Begins with a meeting by Mike, a review of your needs, and a professional quote of the work to be performed. Mike recites precisely what we should expect and, in detail, how it will occur. After speaking with a few other roofers, there was no question, this was the personable company to hire! Extremely professional workers who performed an impeccable job! After watching neighbors replacing their roof with other companies, these same neighbors replied personally to me how amazing this job was and could not believe it only took ONE day! I shared in their amazement as that aspect, although Mike said probably 1 day, was difficult to believe. I'm a believer now! If you're seeking a roofer, don't waste your time with others. THIS is the company to hire, hands down!
Terry F.
A rating
I have never had a better experience than we had dealing with Rhinoback
have been a homeowner for 35 years, and in that time I have hired many different contractors for many different jobs. In all seriousness, we have never had a better experience than we had dealing with Rhino-back roofing. This company is exceptional in terms of service, professionalism, promptness- any measure you want to use. Mike thoroughly explained the work they would do, the materials they would use, and the process in a no pressure at all quote. Josh and his crew had to reschedule due to heavy rain in the forecast twice-and each time called well ahead and scheduled a prompt (i.e. just a few days later) new date. They arrived promptly, worked great and the clean-up was terrific. Looking at the ground you would never know they were here- but one look at the roof and you could tell- it looks great! I teach at UConn and my students will tell you that they get only the grade they earn. Rhino-back earns an A+. I highly recommend them!
Jim T.
A rating
Knowledgeable and pleasant to work with.
Spent time figuring out our problem (ice dams and water damage) which happened to be structural. Replaced the roof on the full dormer, correcting the problem and moisture proofing. Done in less than a day and cleaned up as well. Knowledgeable and pleasant to work with.
Sandra G.
A rating
Excellent
Excellent! The company was very responsive and the workers were neat, competent and professional.
Susam S.
"Best experience ever!"
Best experience ever! Mike was so thorough. Great product and made sure I understood the process. I couldn't believe I went to work one morning and came home to a completed job! You would not have known they were there except for the beautiful new roof! Completely cleaned up. Would highly recommend them 100%!
Barbara N.
The whole experience was amazing!
We had hail damage and the whole experience was amazing from dealing with insurance and keeping me updated to super friendly and knowledgeable staff to professional and courteous installation team. I wouldn't hesitate to work with them again or recommend them. I like them so much we're working on getting my siding replaced next! Thanks, Mike, Melanie, and the whole gang!
Christina D.
A rating
I love my new roof!
Mike and his entire team were professional, punctual, and they did an overall great job. I love my new roof!
Deb T.
A rating
Rhino-Back did a great job and I would definitely recommend them to anyone needing a roof replacement or any type of roof work!
The roofing project went great! Starting with the initial estimate, Mike, the owner, was very clear and enthusiastic in presenting his company and the shingle roofing system they use. His pricing was also very reasonable. He was flexible on the start date as he knew I was starting a new job soon and wanted to be home the day of the job. On that day, Josh, the project supervisor was here about a half hour earlier than the start time. He was friendly and easy to talk to and answered any last questions I had as he explained how the job would proceed. The roofing team arrived a little early and immediately got to work. It was really amazing how energetic and efficient his crew was. They were nonstop action from beginning to end aside from a well deserved lunch break and finished the job in one day. I was expecting it would take two days so was pleasantly surprised. They also cleaned up my property very well and Josh even stopped by the next day to do a more detailed cleanup of smaller material. Finally, Mike followed up with a phone call a few days after completion to see if I had any questions or concerns. Rhino-Back did a great job and I would definitely recommend them to anyone needing a roof replacement or any type of roof work!
John G.
A rating
Mike and his crew were professional, thorough, punctual and efficient.
Complete roof replacement on 1904 home in historic district. Cedar shakes under two layers of asphalt removed, complete new decking, ice and water shield, replaced flashing where needed. Complex job, lots of dormers and odd angles. Mike and his crew were professional, thorough, punctual and efficient. The whole thing finished on budget and on schedule. When we encountered an unanticipated situation, they worked with us to find an economical and effective solution. I felt like part of the process from start to finish. All aspects were explained thoroughly from the day of the estimate, which was much appreciated. They cleaned up the site very well when finished. They showed up,when they said they would, and finished when they said they would. All around a very positive experience.
Stephen J.
After all my research I am convinced Rhino-Back Roofing is the cream of the crop!!!
Finally after 28 years I needed a new roof and wanted a professional reputable local contractor. I met with 3 other area contractors in addition to Mike from Rhino Roofing, Simsbury,CT. I settled on Rhino roof company for my project and am extremely glad I did. The workmanship, crew, professionalism, knowledge & follow up by Mike & his staff from Rhino was exceptional, smooth & stress free. I highly recommend Mike & the staff at Rhino Back Roofing. After all my research I am convinced Rhino Back Roofing is the cream of the crop!!!! Save yourself time & energy call Mike & choose Rhino Back Roofing, Simsbury,CT …….I did!
Sheri M.
I highly recommend rhino back roofing and I am very happy with the results.
Have a roof stripped and reshingled is an extremely stressful experience, both mentally and financially but, I was impressed with the quality, timeliness, and professionalism of Mike, Tim, and the other guys showed before, during, and after my roof project. Rhino Back (Mike) was the ONLY company who checked up in my attic for circulation; all the others were going to give me venting I didn't need. Tim walked me through the process and kept me informed every step of the way. I had several ex and current builders watching the project and was told the workmanship was top notch; especially in regards to the chimney flashing and vapor barriers. When the job was completed, the guys made sure every nail was picked up. They even sent someone the following day to clean up after dumpster removal and do one more trip around the yard for anything that might have been missed.
Shannon Rossi
Their quality of work was excellent and the job was done in two days
Mike and his team are awesome…highly recommend! We needed a new roof last year after it was damaged from the terrible winter weather. We had leaking in our kitchen and ice dams all over the roof. We looked at a few companies before deciding to use Mike and his team. Mike seemed like he truly cared and didn't treat us as just a number. He was very thorough with his estimate, answered all the questions we had, and even helped us provide the necessary info to our insurance company. Their quality of work was excellent and the job was done in two days. Mike even came back a few times to check and make sure everything was as it should be and our rain guard was working properly. Highly recommend them…look no further, Mike's your guy!
Jaime H.
Great communication, pricing and quality work
HIGHLY RECOMMEND!!! Great communication, pricing and quality work. Durning the project was kept updated. Crew was respectful, did excellent work, and cleaned up after themselves. Minimal disruption to our day. Professional and honest! Great experience and beautiful end results.
Chris & Lou H.