Colonial Roof Replacement
West Hartford, CT
Roof replacement in West Hartford, CT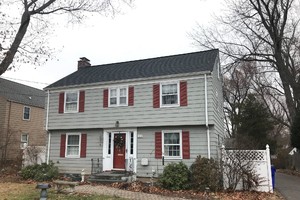 Very professional , and pleasant to work with. Crew came after dumpster delivered, and they worked all day, prepared the house with tarp to cover shrubs, and cleaned up all day after themselves . Very attentive to your needs, and very helpful thru the first interview with Mike, who took the time to show me the whole process, and got me in as soon as possible, as I had a leak. Josh, the supervisor, was in and out all day, and very helpful, too. I have lived in my home 40yrs and this is my 3 roof. Never felt so confident, that this was the best job ever. Thanks Mike.
---
Doreen C. - Sedgwick Road, West Hartford, CT
Review originally posted on
<< Back to Job Portfolio
Get Your Free Roof Replacement Estimate!