Rhino-Back services Granby, CT 06035
We Offer Expert Granby CT Roofing
As a proud homeowner, you need a roofer in Connecticut that you can actually trust to give you the bottom line- no fluff, no runaround. Rhino-Back's management team has over 15 years of experience, and has worked with hundreds and hundreds of happy homeowners to provide the best roofing services in Granby CT .
We specialize in all phases of the roof replacement process. Our family here at Rhino-back is dedicated to serving your needs in a timely manner with an emphasis on quality craftsmanship as well as a commitment to customer service excellence.
Our fully qualified staff is here to assist you with roof replacement services in Granby and are committed to our customer's satisfaction!
We are a Granby CT Roofing Company with an A rating on Angie's List, and a 5 star rating on Google and Facebook. So if you're looking for a company that holds the highest standards for quality, craftsmanship and business reputation, you've come to the right place. It will be our pleasure to serve you!
If you need a Contractor in Granby CT, Call Rhino-Back at 860-217-1424 Today!
Get a Granby Roofing Estimate from Rhino-Back.
Easy Convenient Home Consultation in Granby
You can rely on Rhino-Back to solve many problems you may have. Contact us for an easy, convenient home consultation. Every home is different. So we will inspect your property and put together a detailed scope of exactly what your home needs. Here's a list of the services we specializes in:
Replacement of asphalt shingle roofs
Roof ventilation
Roof-related siding and trim
Rubber roofs
Skylights
Chimney rebuild and repair
Roof flashing
Give us a call or click the "Free Estimate" button to schedule a free, in-home consultation!
Real Labor and Material Warranty Backed by the Top Manufacturer
Another reason you can trust Rhino-Back is because we've earned an exclusive certification with one of the industries top manufacturers! If something goes wrong, you're backed with up to a 50-year labor and material warranty directly through the product manufacturer. A roof is only as good as the people who put it on and stand behind it. Most home owners agree, they need a company that carries a real warranty!
View a few of our completed roofs near Granby below.
Avon, CT
Completed in one day.
Simsbury, CT
The expert team of Rhino-Back Roofers completed this roofing project in Simsbury in one day, start-to-finish!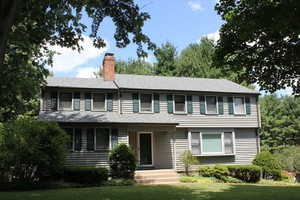 Simsbury, CT
Roofing project completed in one day, start-to-finish
Testimonials & Reviews from Granby
Rhino-Back Roofing in Granby
532 Hopmeadow St
Simsbury
CT
06070
(860) 217-1424
www.rhinobackroofing.com/granby-ct-roofing
I am a big fan of this family owned business. We just had our roof done by them. They were easy to work with, competitively priced and superior in their workmanship in every way. They were fast, clean, trustworthy and skilled. Can't say enough what a great job they did. They showed up when they said they would. We had no headaches, no complaints.
Rating: 5 1 5
---
Testimonial from
Eliza F.

Shelley Drive, Granby, CT

55 Shelley Drive

06035

Granby

CT
Review originally posted on
Rhinoback is one of the best contractors I've had the pleasure of working with. Owner Mike T is very pleasant and professional, and the manufacturer he uses, Owens-Corning, is top-notch. Mike explained everything in detail – roofing materials, the Owens-Corning warranty, and every step of the installation process --- and was the only one of the roofers who bid on the project to actually inspect the attic and crawl spaces to make sure the wood infrastructure was sound. Installation took one day – the crew of seven showed up at 7 am and by 6 pm the roof was finished, all debris was cleaned up, and the house looked terrific. Production manager Josh was on site all day to answer questions, and came back the next day to make sure that every old nail and shingle had been thrown away. You'd think such quality would be prohibitively expensive (and roofing is by nature costly) but Rhinoback's price was mid-range of all the estimates I received. I highly recommend Rhino-Back!
Rating: 5 1 5
---
Testimonial from
Marilyn S.

Silver Brook Lane, Granby, CT

8 Silver Brook Lane

06060

Granby

CT
Review originally posted on
My Fiance and I live in Granby, CT and had Rhino Back replace our garage and walkway roof recently. It went about as well as it could possibly go. While it was a struggle to get other roofers we contacted to even call us back, Mike and his crew contacted us within a 1/2 hour of our initial inquiry online and he personally came out to look at the job the next day. After we made a deposit and picked out a color the crew was out there in a week or so. We left for work and when we got back we had a new roof!! They left the area cleaner then it was before they got there. And now we have a roof thats good for the next 50 yrs and a no questions asked warranty that transfers to the next owner. We probably could have found someone cheaper and saved a couple hundred bucks, but for what we got and how easy it was, the money was totally worth it. Mike even sent us brownies and a christmas card for crying out loud!!!
Rating: 5 1 5
---
Testimonial from
Nathan L.

Zimmer Road, Granby, CT

14 Zimmer Road

06035

Granby

CT
Review originally posted on
was extremely pleased with Rhino-Back roofing owner Mike's attention to detail and completeness when explaining the roofing system, products, cost estimate and warranty. During the follow-up to the estimate, when we discussed some changes, Mike was prompt and very responsive via email and phone to resolve any issues. The Rhino-Back crew stripped all shingles, removed and replaced about 25 sheets of damaged or moldy plywood, replaced 2 skylights, and re-shingled the roof, all in only 1 day. The clean-up was thorough, and there was even a second clean-up person that came the following day to get any small debris that was missed by the roofing crew. This is a 5-star outfit, in my view, and I'd highly recommend them to anyone with a roofing issue.
Rating: 5 1 5
---
Testimonial from
Thomas S.

Eric Drive, Granby, CT

7R Eric Drive

06035

Granby

CT
Review originally posted on
A new roof is a big ticket item and I sure am glad I got this one right. Mike and the entire Rhino-Back team have been outstanding! From the initial consult to signing on the line, I felt like I was making an informed decision. It was apparent that Mike wanted to educate me in the process and allow me to make my decision based on data, examples of materials and previous customer reviews. I strongly believe the price was fair for the quality, warranty and excellent customer service I received throughout the process. The installers were quick and clean. The project manager, Tim, kept me informed of scheduling and was a strong presence on install day, and Frank took care of final clean-up the following day. I hope this review helps the next person pondering the roofing decision. I have sound piece-of-mind with my decision to have selected Rhino-Back. Best Regards, Tony
Rating: 5 1 5
---
Testimonial from
Tony F.

Silkey Heights Drive, Granby, CT

1 Silkey Heights Drive

06060

Granby

CT
Review originally posted on
We found an issue with our roof in October and we called Rhino. We needed to replace our roof. The job was completed quickly and seamlessly. Very professional staff and caring for our roof needs. Thank you!!
Rating: 5 1 5
---
Testimonial from
Luisa A.

Granby, CT

19 Candlewood Lane

06035

Granby

CT
Review originally posted on