Rhino-Back services East Longmeadow, Massachusetts 01116
We Offer Expert East Longmeadow, MA Roofing
As a proud homeowner, you need a roofer in Massachusetts that you can actually trust to give you the bottom line- no fluff, no runaround. Rhino-Back's management team has over 15 years of experience and has worked with hundreds and hundreds of happy homeowners to provide the best roofing services in East Longmeadow MA.
We specialize in all phases of the roof replacement process. Our family here at Rhino-back is dedicated to serving your needs in a timely manner with an emphasis on quality craftsmanship as well as a commitment to customer service excellence.
Our fully qualified staff is here to assist you with roof replacement services in East Longmeadow and are committed to our customer's satisfaction!
We are a East Longmeadow Massachusetts Roofing Company with an A rating on Angie's List, and a 5 star rating on Google and Facebook. So if you're looking for a company that holds the highest standards for quality, craftsmanship and business reputation, you've come to the right place. It will be our pleasure to serve you!
If you need a Contractor in East Longmeadow MA, Call Rhino-Back at 413-930-3400 Today!
Need roofing in East Longmeadow? East Longmeadow is a city in Hampden County, Massachusetts with over a population of over 15,500, conveniently located in the Pioneer Valley region of Western Massachusetts. Rhino-Back Roofing is an East Longmeadow MA Roofer. We are a family-owned & trusted East Longmeadow MA roofer, Give us a call or click the "Free Estimate" button to schedule a free East Longmeadow MA roofing in-home consultation!
Services in East Longmeadow, MA
Get a East Longmeadow Roofing Estimate from Rhino-Back.
Easy Convenient Home Consultation in East Longmeadow
You can rely on Rhino-Back to solve many problems you may have. Contact our East Longmeadow Roofers for an easy, convenient home consultation. Every home is different. So we will inspect your property and put together a detailed scope of exactly what your home needs.
Real Labor and Material Warranty Backed by the Top Manufacturer
Another reason you can trust Rhino-Back is because we are one of only a handful of roofing companies in Massachusetts with an exclusive certification with one of the industry's top manufacturers! If something goes wrong, you're backed with up to a 50-year labor and material warranty directly through the product manufacturer. A roof is only as good as the people who put it on and stand behind it. Most East Longmeadow home owners agree, they need a company that carries a real warranty!
View a few of our completed roofs near East Longmeadow below.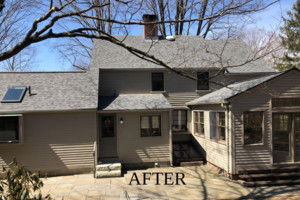 Simsbury, CT
Roof Replacement Simsbury Gray Shingles
West Hartford, CT
Roof replacement in West Hartford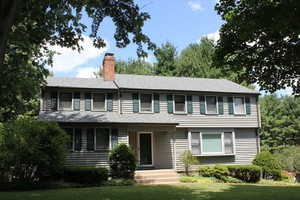 Simsbury, CT
Roofing project completed in one day, start-to-finish
A rating
Excellent service excellent roofing job great price.
Excellent service excellent roofing job great price.
Marci E.
A rating
Knowledgeable and pleasant to work with.
Spent time figuring out our problem (ice dams and water damage) which happened to be structural. Replaced the roof on the full dormer, correcting the problem and moisture proofing. Done in less than a day and cleaned up as well. Knowledgeable and pleasant to work with.
Sandra G.
I have never been so well treated by any company in my lifetime.
The people at Rhino-Back Roofing are the most professional and courteous I've ever had the pleasure to deal with. They sincerely care about their customers and want you to be happy and satisfied and will do whatever is necessary to ensure that. I had dealings with several personnel at Rhino-Back over the course of the roof replacement on my home and all were easy to talk to and helpful. I would highly recommend them for any roofing needs.
Joseph Anthony
A rating
Rhino-Back Roofing was the clear choice.
My wife and I shopped this job the best we could. We requested quotes from four companies for our roof replacement, skylight replacement and chimney repair of which two of the companies were referred by neighbors. Two of the four were not able to quote the chimney repair but the quotes were itemized so we were able to compare apples to apples. The difference between the highest and the lowest was $1,500 on the roof replacement. The shingles offered were Corning and Timberline. We read every review we could find on both and found that Corning had a slight edge because it has a nailing strip. This wasn't a make or break difference. We had four quotes from well-reviewed and experienced roofing contractors so we based our decision on who we thought would be the most likely to do the best job, expert and clear communication on remedy for existing roof leak and ice damming, the most likely to return to fix a problem, price and value. Rhino-Back Roofing was the clear choice. The job took three days, the roof looks great, the skylights fit perfect and the chimney looks awesome. The service was professional and the cleanup was good.
Anthony & Ros N.
We are extremely pleased with our new roof by Rhinoback Roofing.
Out of all of the companies that bid on our roof replacement, Mike was the only one who took the time to explain every detail of the project, including his findings from inspecting our attic and covered porch areas. He thoroughly reviewed with us the superior quality of his product (Owens Corning) vs the shingles and underlayment used by other companies. Our own research confirmed what Mike had shared. The crew was fantastic - thorough, clean, polite, and fast! They completed our large project in a single day. We are thrilled with the results and would recommend Rhinoback Roofing to anyone and everyone. Mike and his team definitely go 'above and beyond' to ensure a high-quality result.
Linda Casey
The whole experience was amazing!
We had hail damage and the whole experience was amazing from dealing with insurance and keeping me updated to super friendly and knowledgeable staff to professional and courteous installation team. I wouldn't hesitate to work with them again or recommend them. I like them so much we're working on getting my siding replaced next! Thanks, Mike, Melanie, and the whole gang!
Christina D.
The entire experience has been pleasant
The entire experience has been pleasant. Mike was polite and professional. The job was scheduled just a couple of weeks after the contract was signed and they did show up on time. They completed the job in 1 day and cleaned up the yard afterward. The roof looks refresh and neat and the material looks durable. So far I have not complaints.
Wei Fu
A rating
Rhino-Back provided excellent service
I am very happy that I chose Rhino Back Roofing to replace my roof. From the estimate to the project's completion and follow up Rhino Back provided excellent service. Mike's informative overview of the project process and materials used was a step above his competition in terms of detail and genuine attentiveness to my questions. He also scheduled the project to meet my time schedule. The project itself was completed quickly and professionally by six of the hardest working people I have ever seen. Josh, their foreman, carefully supervised his crew and checked in with me to answer any questions I had. Indeed, Josh and Mike's affability were significant in making the project go smoothly and with a minimum of stress. At this time I am comfortable recommending Rhino Back Roofing without qualification. I think you will find that they go the extra mile to satisfy their customers.
Bill & Mary S.
I'm glad we went with Rhino-Back and would absolutely recommend them to friends.
We just had our roof done, and were very pleased with RhinoBack. Mike and his team were great to work with and followed through to make sure we were completely satisfied with the new roof – even after paid in full. They were very responsive and came back a couple of times to make sure they cleaned everything up (had to wait for the snow to melt on the ground). We got several quotes for our roof, but I'm glad we went with RhinoBack and would absolutely recommend them to friends.
Trey & Kim S.
A rating
Very professional and great to work with
Mike did a great job selecting the appropriate color tiles. The timeline of the project was laid out and all deadlines were met or exceeded. The new roof sections were seamlessly matched to the existing roof–the workmanship is excellent The cleanup was impeccable. The entire team was very professional and great to work with. I highly recommend Rhino Back.
Lois W.
Working with Rhino-Back was as painless a process as humanly possible.
Working with Rhinoback was as painless a process as humanly possible. I contacted 4 local companies for quotes; they were the only ones to call me back. Communication was excellent, their quote was honest and fair, they showed up when they said they would, completed the job quickly and cleaned up thoroughly. We have been putting off this project for years, and we are so relieved to have it behind us and to feel so confident in the workmanship. The thank you note and delivery of brownies was a nice touch too :-)
Mike & Becky H.
The results are spectacular and it looks like a new home!
It was an absolute pleasure to work with Rhino Back Roofing from start to finish. Mike, Josh and the rest of the team are consummate professionals during every phase of the process. From the initial meeting, to the final cleanup, we experienced a sense of confidence that the job was being done right. The results are spectacular and it looks like a new home! Thank you Rhino Back!
Laurie K.
"Best experience ever!"
Best experience ever! Mike was so thorough. Great product and made sure I understood the process. I couldn't believe I went to work one morning and came home to a completed job! You would not have known they were there except for the beautiful new roof! Completely cleaned up. Would highly recommend them 100%!
Barbara N.
Weatogue Roof Replacement
Mike , Tim and his Team were very professional. The Rhino team left my property very clean especially dealing with snow and the cold weather, all the logistics were very seamless from setting the dumpster delivery to taking old roof off then putting new roof on. I couldn't have asked for a more knowledgable group to help with such a big investment. Thank you Rhino Team for giving our house new life! happy new years and cheers to you, I would recommend you guys to anyone.
Erik C.
A rating
Fantastic service, competitive pricing.
Fantastic service, competitive pricing. Mike communicated what needed to be done during the quoting process and Josh reached out during the installation and updated me with the progress (I was out of town at the time). I came home to a new roof and a very clean yard!!! Thanks Rhinoback!
Edmund V.
They were competitive in price in the area, are committed to the community, and the work is top notch
Great communication, very customer focused, competitive pricing and a very experienced crew. Mike is running a stellar company; Josh (the foreman for our house) was extremely personable and spent plenty of time walking me around the day (single - they did our roof in about 7 hours) explaining what was going on. They were competitive in price in the area, are committed to the community, and the work is top notch. We're so happy with the work (and the look of the new roof!), we've recommended them to at least 3 friends. You won't be disappointed.
Ben B.
A rating
The experience was outstanding from beginning to end.
The experience was outstanding from beginning to end. The work was done in a single day which was amazing. The cleanup was good and pretty thorough. And the roof looks beautiful. We'd highly recommend Rhino Back Roofing.
Andrew S.
I cannot say enough good things about Rhino-Back Roofing
I cannot say enough good things about Rhino-Back Roofing. The level of service and professionalism, paired with the end result, is far beyond anything I could have hoped for with this project. From the very beginning, Mike and his team were available, informative and made us feel part of the family. We just moved into our very first New England home and found we needed a FULL roof replacement. Here are a few points that highlighted the process for me: • Very detailed initial consultation (complete with attic walk-thru). • Convenient and timely scheduling of work (within 2 weeks). • Fair and equitable pricing. • Top of the line products. • Single day full roof replacement and same day clean up. • Amazing end product and follow up that it met our expectations. This final piece is key and speaks to the character of the company and its owner. A few days after completion, I noticed some damage to my back deck. To be honest, I wasn't sure if this was already there but I called Mike to see what my options were and get his opinion. I didn't even have to ask and Mike had someone out to take a look within an hour and called me back that night to let me know he was arranging for someone to replace that portion of the deck! To be clear, this was almost certainly a pre-existing issue due to some natural rotting. However, since the issue may have been accelerated by his crew, he wanted to take care of it. Now THAT is how you build a reputation. Thank you, Rhino-Back Roofing. Thank you, Mike. Zack
Zack M.
A rating
10 for 10 for Rhino-back roofing – the entire team.
We decided to replace our existing roof so we contacted three local area contractors. One was more of larger company doing roofing all over CT, the other two were local guys. The larger company gave us a solid quote, but the person who came and looked at the roof was a total salesman. We had some questions about the roof that he could not answer but said he would have someone call us. The other local guy missed the scheduled time then did a drive by the house, providing a good quote, but never even talked to us. Then there was Mike from Rhino. Mike showed up on-time and was very friendly. He looked over the whole roof and even went into the attic to get a good feel for the job. He then spent about an hour taking us through the job, answering all our questions right on the spot. It was obvious he knew his stuff! Gave us outstanding advise that kept us from spending on unneeded modifications to the roof. Mike gave us a very solid quote. He was not as cheap as the larger company, but it was clear we would get an outstanding product from him and his team. I think that the other company was making up the costs on ridge vents along with some other cost cutting adjustments that Mike advised against. We took Mike's advice and could not be happier. Josh, Mikes project manager was awesome. The team showed up on-time and knocked out the job in two days and we have a big house. They were so friendly and helpful, we cannot say enough positive things about the guys. As for the roof, it looks awesome!! Mike helped us pick the color and he was spot on! We love it! 10 for 10 for Rhino-back roofing – the entire team. It was worth paying a bit more for such quality work and advice.
Jerry & Chris S.
If you need a new roof, I could not recommend them more strongly.
We just had our roof done by Rhino Back Roofing and I had to give a shout out for them. Professional from the start to the end. High quality initial inspection, great shingle quality, stunning install, great prices, efficient and polite crew, immaculate clean-up and fantastic communication all the way through. If you need a new roof, I could not recommend them more strongly.
Heather C.