Rhino-Back services East Longmeadow, Massachusetts 01116
We Offer Expert East Longmeadow, MA Roofing
As a proud homeowner, you need a roofer in Massachusetts that you can actually trust to give you the bottom line- no fluff, no runaround. Rhino-Back's management team has over 15 years of experience and has worked with hundreds and hundreds of happy homeowners to provide the best roofing services in East Longmeadow MA.
We specialize in all phases of the roof replacement process. Our family here at Rhino-back is dedicated to serving your needs in a timely manner with an emphasis on quality craftsmanship as well as a commitment to customer service excellence.
Our fully qualified staff is here to assist you with roof replacement services in East Longmeadow and are committed to our customer's satisfaction!
We are a East Longmeadow Massachusetts Roofing Company with an A rating on Angie's List, and a 5 star rating on Google and Facebook. So if you're looking for a company that holds the highest standards for quality, craftsmanship and business reputation, you've come to the right place. It will be our pleasure to serve you!
If you need a Contractor in East Longmeadow MA, Call Rhino-Back at 413-930-3400 Today!
Need roofing in East Longmeadow? East Longmeadow is a city in Hampden County, Massachusetts with over a population of over 15,500, conveniently located in the Pioneer Valley region of Western Massachusetts. Rhino-Back Roofing is an East Longmeadow MA Roofer. We are a family-owned & trusted East Longmeadow MA roofer, Give us a call or click the "Free Estimate" button to schedule a free East Longmeadow MA roofing in-home consultation!
Services in East Longmeadow, MA
Get a East Longmeadow Roofing Estimate from Rhino-Back.
Easy Convenient Home Consultation in East Longmeadow
You can rely on Rhino-Back to solve many problems you may have. Contact our East Longmeadow Roofers for an easy, convenient home consultation. Every home is different. So we will inspect your property and put together a detailed scope of exactly what your home needs.
Real Labor and Material Warranty Backed by the Top Manufacturer
Another reason you can trust Rhino-Back is because we are one of only a handful of roofing companies in Massachusetts with an exclusive certification with one of the industry's top manufacturers! If something goes wrong, you're backed with up to a 50-year labor and material warranty directly through the product manufacturer. A roof is only as good as the people who put it on and stand behind it. Most East Longmeadow home owners agree, they need a company that carries a real warranty!
View a few of our completed roofs near East Longmeadow below.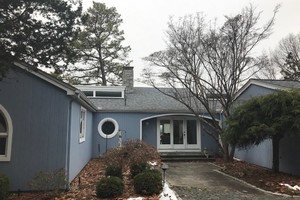 Avon, CT
Big job completed on a quite street.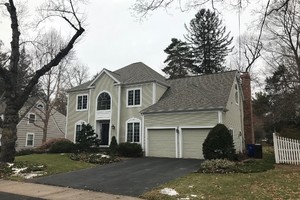 West Hartford, CT
Roofing project in West Hartford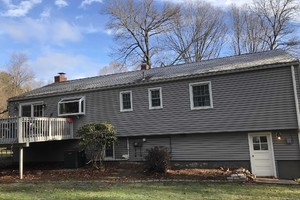 Simsbury, CT
"I knew who to trust!"
A rating
Highly recommend this company
Very professional and friendly. No hard sell or bad mouthing of competitors. Took the time to explain their product, what needed to be done and answer our questions. Generous selection of colors and styles. Worked with OUR schedule, greatly appreciated considering our roof was leaking and causing interior damage. They also went to great lengths not to destroy our flower beds. Meticulous clean up when finished. Appreciated the follow up contact after work was completed. Highly recommend this company. I wish they hung sheetrock and did tree removal.
Michelle M.
They know what they're doing!
Mike and team recently replaced our roof, a number of skylights and added a rubber roof on a low pitch addition. As we went through the quoting process, Mike outlined various options and came up with some creative solutions that were very competitive on pricing. I'm writing this one month later and the completed work is excellent. The actual install took a day and the team was organized, methodical and very respectful of our property. I highly recommend you consider this business for any of the related services they provide.
Michael Gaul
A rating
Fantastic service, competitive pricing.
Fantastic service, competitive pricing. Mike communicated what needed to be done during the quoting process and Josh reached out during the installation and updated me with the progress (I was out of town at the time). I came home to a new roof and a very clean yard!!! Thanks Rhinoback!
Edmund V.
"The nicest people to deal with!"
Exemplary workmanship, attention to detail and the nicest people to deal with! Mike and his team dealt with everything from beginning to end with expertise and persistence . The work ethic of the roofing crew was admirable and folks, this was not their first rodeo! We watched in awe as they worked together like a well oiled machine-We were left with a 1st class roofing installation and couldn't be more pleased. Thank you everyone at Rhino-back. You are the best in the business.
Carolan
A rating
Rhino-Back Roofing was great. Mike spent a lot of time explaining the process and answering questions to put our mind at ease.
Rhino-Back Roofing was great. Mike spent a lot of time explaining the process and answering questions to put our mind at ease. He was a super nice person to work with and followed through on everything he said he would do. They were also very competitively priced and the products and workmanship were excellent. We would highly recommend Mike Trouern-Trend and Rhino-Back Roofing!
David & Ellen T.
Never felt so confident, that this was the best job ever.
Very professional , and pleasant to work with. Crew came after dumpster delivered, and they worked all day, prepared the house with tarp to cover shrubs, and cleaned up all day after themselves . Very attentive to your needs, and very helpful thru the first interview with Mike, who took the time to show me the whole process, and got me in as soon as possible, as I had a leak. Josh, the supervisor, was in and out all day, and very helpful, too. I have lived in my home 40yrs and this is my 3 roof. Never felt so confident, that this was the best job ever. Thanks Mike.
Doreen C.
A rating
Rhino-Back provided excellent service
I am very happy that I chose Rhino Back Roofing to replace my roof. From the estimate to the project's completion and follow up Rhino Back provided excellent service. Mike's informative overview of the project process and materials used was a step above his competition in terms of detail and genuine attentiveness to my questions. He also scheduled the project to meet my time schedule. The project itself was completed quickly and professionally by six of the hardest working people I have ever seen. Josh, their foreman, carefully supervised his crew and checked in with me to answer any questions I had. Indeed, Josh and Mike's affability were significant in making the project go smoothly and with a minimum of stress. At this time I am comfortable recommending Rhino Back Roofing without qualification. I think you will find that they go the extra mile to satisfy their customers.
Bill & Mary S.
Thanks again guys!
Mike and his entire staff are professional, trustworthy and do an amazing job from start to finish. Highly recommend Rhino-Back. Support local!!!
Paola Maroney
Quality service
They provided quality service. They're a professional group that I would do business with again any day of the week!
Kevin H.
Their attention to detail made them a step above any other roofing company
We had a wonderful experience with Rhino-Back Roofing. Mike, Tim and their team were amazing to work with. Their attention to detail made them a step above any other roofing company. We are very happy with the finished product of our roof and skylight . They left our yard and the work area spotless after the work was finished. We will definitely be using them again for future roofing needs and would highly recommend them for your roofing needs as well! Thank you again Mike and Team!
Emily H.
A rating
Excellent
Excellent! The company was very responsive and the workers were neat, competent and professional.
Susam S.
A rating
Love, love, love my new roof.
Love, love, love my new roof. An investment like this can be rather daunting but Rhino Back Roofing made it to easy. Out of the 5 contractors I reached out to, Mike spent the most time with us. He explained everything in detail, what he recommends, why he uses the products he does and answered all our questions. He is very knowledgeable and you can tell very passionate about his business. The team came and finished the roof in 1.5 days. They worked very hard, were very polite and did a good job cleaning up. The project manager Josh was onsite during the entire job and made sure everything was being done correctly and to answer any of our questions. The tiles we picked out look great on the house: Sedona Canyon. Its hard to tell from looking at a small sample. Mike worked with us, showed us multiple colors and also felt it Sedona Canyon would look good. Highly recommend Rhino Back Roofing. Thank you Mike, Josh and team!
Jutta G.
Mike and his Team are wonderful
We had a great experience with Rhino Back Roofing from start to finish. Mike and his team are wonderful. Communication was great, install was quick and they did a great job cleaning up.
Angela C.
No doubt we made the right decision
We highly recommend Rhino-Back Roofing! Mike Trouern-Trend and his team were fantastic. We had 3 other contractors look at our roof before choosing Rhino-Back, and we have no doubt we made the right decision! Part of our roof is a low pitch that was added onto the house- the roof installed on this part of the house was designed for a steeper pitch, and we had some leaking in the fall… Mike came over as a courtesy and helped us come up with a solution at that time, which got us through the winter with no issues. This spring, Rhino-back replaced our entire roofing system. Most of the house was shingles- we had a rubber roof installed on the low pitch section. Rhino-Back's team was quick, courteous, and cleaned up after themselves…. not to mention the new roof looks great! They followed up to make sure the property was spotless and we were satisfied- which it was and we certainly were! Save yourself the headache of trying to find the right roofing contractor and call Rhino-back!
Koren M.
Weatogue Roof Replacement
Mike , Tim and his Team were very professional. The Rhino team left my property very clean especially dealing with snow and the cold weather, all the logistics were very seamless from setting the dumpster delivery to taking old roof off then putting new roof on. I couldn't have asked for a more knowledgable group to help with such a big investment. Thank you Rhino Team for giving our house new life! happy new years and cheers to you, I would recommend you guys to anyone.
Erik C.
A rating
Very professional and great to work with
Mike did a great job selecting the appropriate color tiles. The timeline of the project was laid out and all deadlines were met or exceeded. The new roof sections were seamlessly matched to the existing roof–the workmanship is excellent The cleanup was impeccable. The entire team was very professional and great to work with. I highly recommend Rhino Back.
Lois W.
A rating
Everything was perfect and done exactly as I was told
Everything went great from start to finish. Mike presented a professional explanation of what they would do and what materials they would use. The contract was written specifically showing exactly what Mike had indicated. When the time came for our roof to be done Josh and his crew showed up on time, I was walked around our house and told how they were going to protect the siding and landscaping. The work was completed the same day including cleanup. Everything was perfect and done exactly as I was told. I would highly recommend Rhino-Back roofing.
Bill N.
" Skillful and very efficient"
Kudos to the entire Rhino-Back Roofing team. Mike and Melanie did a great job for us. Starting at documenting the hail damage with the insurance company to answering all of our questions through out the whole project. The roofing team was careful of shrubs and property, skillful and very efficient through out the installation of multiple roofs on two structures. Management, staff, and tradesmen and women were consistently courteous and accommodating of our needs. Many thanks to all of you.
Roger & Diane H.
Mike, Josh and the entire crew are awesome!
Mike, Josh and the entire crew are awesome! They are friendly, prompt, caring and professional. Everything from our initial meeting with Mike to the cleanup after the job was finished was wonderful. They go above and beyond to do the highest quality work possible. We cannot say enough good things about Rhino-Back Roofing and we will always recommend their services.
Melanie Y.
A rating
They were great. Came on time, finished quickly – earlier than expected. Very professional. Great owners and staff.
They were great. Came on time, finished quickly – earlier than expected. Very professional. Great owners and staff. Easy to contact. They called and kept us informed on every step of the project. A storm was coming in and they stayed late to make sure the project was finished so we would not have problems with leaks. They made sure to cleanup and the workmanship is wonderful. We have dealt with many contractors (fired a few) through the years and Rhino-Back roofing is the best. We would recommend them 100% percent. Great quality, workmanship and they made that we were happy.
Frank & Frances V.