Rhino-Back services East Longmeadow, Massachusetts 01116
We Offer Expert East Longmeadow, MA Roofing
As a proud homeowner, you need a roofer in Massachusetts that you can actually trust to give you the bottom line- no fluff, no runaround. Rhino-Back's management team has over 15 years of experience and has worked with hundreds and hundreds of happy homeowners to provide the best roofing services in East Longmeadow MA.
We specialize in all phases of the roof replacement process. Our family here at Rhino-back is dedicated to serving your needs in a timely manner with an emphasis on quality craftsmanship as well as a commitment to customer service excellence.
Our fully qualified staff is here to assist you with roof replacement services in East Longmeadow and are committed to our customer's satisfaction!
We are a East Longmeadow Massachusetts Roofing Company with an A rating on Angie's List, and a 5 star rating on Google and Facebook. So if you're looking for a company that holds the highest standards for quality, craftsmanship and business reputation, you've come to the right place. It will be our pleasure to serve you!
If you need a Contractor in East Longmeadow MA, Call Rhino-Back at 413-930-3400 Today!
Need roofing in East Longmeadow? East Longmeadow is a city in Hampden County, Massachusetts with over a population of over 15,500, conveniently located in the Pioneer Valley region of Western Massachusetts. Rhino-Back Roofing is an East Longmeadow MA Roofer. We are a family-owned & trusted East Longmeadow MA roofer, Give us a call or click the "Free Estimate" button to schedule a free East Longmeadow MA roofing in-home consultation!
Services in East Longmeadow, MA
Get a East Longmeadow Roofing Estimate from Rhino-Back.
Easy Convenient Home Consultation in East Longmeadow
You can rely on Rhino-Back to solve many problems you may have. Contact our East Longmeadow Roofers for an easy, convenient home consultation. Every home is different. So we will inspect your property and put together a detailed scope of exactly what your home needs.
Real Labor and Material Warranty Backed by the Top Manufacturer
Another reason you can trust Rhino-Back is because we are one of only a handful of roofing companies in Massachusetts with an exclusive certification with one of the industry's top manufacturers! If something goes wrong, you're backed with up to a 50-year labor and material warranty directly through the product manufacturer. A roof is only as good as the people who put it on and stand behind it. Most East Longmeadow home owners agree, they need a company that carries a real warranty!
View a few of our completed roofs near East Longmeadow below.
West Hartford, CT
Roof replacement in West Hartford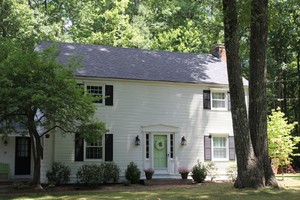 Simsbury, CT
Roof Replacement in Simsbury, CT by the Rhino-Back Roofing Team.
Granby, CT
Their attention to detail made them a step above any other roofing company
We had a wonderful experience with Rhino-Back Roofing. Mike, Tim and their team were amazing to work with. Their attention to detail made them a step above any other roofing company. We are very happy with the finished product of our roof and skylight . They left our yard and the work area spotless after the work was finished. We will definitely be using them again for future roofing needs and would highly recommend them for your roofing needs as well! Thank you again Mike and Team!
Emily H.
"The nicest people to deal with!"
Exemplary workmanship, attention to detail and the nicest people to deal with! Mike and his team dealt with everything from beginning to end with expertise and persistence . The work ethic of the roofing crew was admirable and folks, this was not their first rodeo! We watched in awe as they worked together like a well oiled machine-We were left with a 1st class roofing installation and couldn't be more pleased. Thank you everyone at Rhino-back. You are the best in the business.
Carolan
This is a 5-star outfit
was extremely pleased with Rhino-Back roofing owner Mike's attention to detail and completeness when explaining the roofing system, products, cost estimate and warranty. During the follow-up to the estimate, when we discussed some changes, Mike was prompt and very responsive via email and phone to resolve any issues. The Rhino-Back crew stripped all shingles, removed and replaced about 25 sheets of damaged or moldy plywood, replaced 2 skylights, and re-shingled the roof, all in only 1 day. The clean-up was thorough, and there was even a second clean-up person that came the following day to get any small debris that was missed by the roofing crew. This is a 5-star outfit, in my view, and I'd highly recommend them to anyone with a roofing issue.
Thomas S.
Rhino-Back Roofing is a fantastic company and I can't say enough good things about them
Rhino-Back Roofing is a fantastic company and I can't say enough good things about them. I have a beautiful new roof and chimney as of today! Working with Mike is like working with your best friend! He's genuine, friendly, and honest and makes you feel at ease and comfortable. He really cares about getting you the best roof for the best price, and will do anything it takes! We interviewed several roofers and Mike's price was very competitive (actually I think it was the lowest bid even though he had the best Owens Corning materials and warranty). He was very patient with me when I had questions, explaining all my options and the pro's and con's of different methods. When I preferred adding a ridge vent and soffit vents rather than the roof top fan that he recommended, he gave me a price using both methods. I ultimately chose the ridge and soffit vents and his supervisor, Josh cut the soffit vents himself the day before installation. When I thought we needed a few more vents, Josh added 3 more on installation day at no additional charge!. Since a tree had damaged the back eave of the garage, Mike said he'd take care of that for us, and Josh replaced the plywood, back eave and gutter. Josh is an expert craftsman and the result is beautiful! My roof was leaking over my porch and when the tarp we installed failed, Mike pushed up my roof installation date to accommodate me and get the job done. Mike is very involved from start to finish and kept me informed every step of the way. Both he and Josh returned every phone call and text immediately or within a couple of hours. When I woke up on installation day and realized I hadn't asked Mike to include my shed roof, I asked Josh if he could possibly do the shed also. Since they'd ordered extra shingles, they had enough to do my shed and got that done too! The house, garage and shed were done in one day and Josh was on hand all day answering my questions and taking me for a walk around to see the work being done. The roofing crew were professional, courteous and very hard working on a very cold and windy day! I enjoyed talking to them from time to time and was amazed at the beautiful work they were doing. They made sure I had clear access to my doorways as I went in and out during the day, raking away leaves and nails for me. They did an amazing clean up job, even raking all the stubborn leaves from under my bushes along the house. It was like having a fall cleanup crew free of charge! When Josh inspected my chimney the day before installation, he said it would need a rebuild within the year. Since I'd taken out a low interest Energy Conservation Loan from Capital for Change, I wanted get the chimney done immediately in order to add the cost of the chimney rebuild to my loan, which would require completing new paperwork and a few days delay in payment to the roof crew. Mike was completely understanding, patient and helpful, getting me the new paperwork I needed for the loan. He quickly lined up a chimney mason and crew, and within 5 days of the roof installation, the chimney was done (today!). I highly recommend Rhino-Back Roofing with no reservations! Working with Mike was the best experience a girl (or woman with not roofing knowledge) could ask for. Choose Rhino-Back Roofing! You won't be disappointed!
Joanne D.
Fast, friendly, and quality
After the May 2018 hail storm, we contacted Mike and Lisa at Rhino Back Roofing Our experience was excellent with professionalism and communication way above par. The installation crew was fast, friendly and did an amazing job!
Ken Kuhl
They did the preliminary checkup in a much more thorough manner than any other company.
They did a great job. They deserve to have good feedback. I was satisfied that they knew about the problems with my roof. They did the preliminary checkup in a much more thorough manner than any other company. Rhino came in and told me up front what the problems were and what they could do. My house was built in 1938, but they were able to assess it very quickly and correctly. I would like to recognize Mike, the installer, and Josh, the foreman. They are both very open, straightforward, and did a good job. I don't normally do these things, did such a good job that I wanted to make sure they got my positive feedback.
David T.
Weatogue Roof Replacement
Mike , Tim and his Team were very professional. The Rhino team left my property very clean especially dealing with snow and the cold weather, all the logistics were very seamless from setting the dumpster delivery to taking old roof off then putting new roof on. I couldn't have asked for a more knowledgable group to help with such a big investment. Thank you Rhino Team for giving our house new life! happy new years and cheers to you, I would recommend you guys to anyone.
Erik C.
A rating
I have never had a better experience than we had dealing with Rhinoback
have been a homeowner for 35 years, and in that time I have hired many different contractors for many different jobs. In all seriousness, we have never had a better experience than we had dealing with Rhino-back roofing. This company is exceptional in terms of service, professionalism, promptness- any measure you want to use. Mike thoroughly explained the work they would do, the materials they would use, and the process in a no pressure at all quote. Josh and his crew had to reschedule due to heavy rain in the forecast twice-and each time called well ahead and scheduled a prompt (i.e. just a few days later) new date. They arrived promptly, worked great and the clean-up was terrific. Looking at the ground you would never know they were here- but one look at the roof and you could tell- it looks great! I teach at UConn and my students will tell you that they get only the grade they earn. Rhino-back earns an A+. I highly recommend them!
Jim T.
Working with Rhino-Back was as painless a process as humanly possible.
Working with Rhinoback was as painless a process as humanly possible. I contacted 4 local companies for quotes; they were the only ones to call me back. Communication was excellent, their quote was honest and fair, they showed up when they said they would, completed the job quickly and cleaned up thoroughly. We have been putting off this project for years, and we are so relieved to have it behind us and to feel so confident in the workmanship. The thank you note and delivery of brownies was a nice touch too :-)
Mike & Becky H.
A rating
Excellent Job, Rhino-Back
Excellent! Mike (owner) and his crew (led by on site foreman, Caesar) reported to the job at the appointed time. They answered all my pre work questions and concerns and began work. They proceeded to strip the previous roof and replace the existing skylight in less than a day. I am so impressed with their workmanship and the results. Mike was back several times during the day to check on progress and address any possible complications. Stripping the original materials and dropping them in a designated area resulted in a spotless cleanup of a messy job. They were done in a day and when they left you could not tell that they were there, as my deck (drop area) was spotless. Their work has enhanced the value of my property at a very fair price.
Ed M.
A rating
I was very pleased and amazed with the whole experience. Mike and team went above and beyond my expectations
I was very pleased and amazed with the whole experience. Mike and team went above and beyond my expectations. Job was done on time and quality and took the time to assure all my questions and concerns were answered. Aside from being knowledgeable in roofing they demonstrated superior customer service (even interested in my feedback for improvement). I recommend them without hesitation to anyone needing roofing service. Thanks again for a great experience and wish Rhino-Back Roofing much success in the future.
Rodrigo & Maura G.
A rating
I would unhesitatingly call them again, and am happy to recommend them here.
What makes for a great roofer? Good price, of course. But the work has to be quality and the materials top notch. They should arrive when they say they will, perform the work in a timely fashion, and clean up the area, leaving it in the condition they found it. If you agree that this describes a great roofer, then you've found who you are looking for in Rhino-Back Roofing in Simsbury, CT. They arrived punctually at 7 a.m. with an 8-man crew; had both layers of the old roof off by noon, and by dinner their meticulous clean-up left my property neater than they found it! Plus, they were courteous, attentive to detail, and followed up to make sure nothing had been forgotten. I would unhesitatingly call them again, and am happy to recommend them here.
Stephan A.
A rating
A truly amazing, unexpected experience!
A truly amazing, unexpected experience! Begins with a meeting by Mike, a review of your needs, and a professional quote of the work to be performed. Mike recites precisely what we should expect and, in detail, how it will occur. After speaking with a few other roofers, there was no question, this was the personable company to hire! Extremely professional workers who performed an impeccable job! After watching neighbors replacing their roof with other companies, these same neighbors replied personally to me how amazing this job was and could not believe it only took ONE day! I shared in their amazement as that aspect, although Mike said probably 1 day, was difficult to believe. I'm a believer now! If you're seeking a roofer, don't waste your time with others. THIS is the company to hire, hands down!
Terry F.
Quick, courteous, professional staff…
Shout out to local family business, Rhino Roofing, who just put a new roof on for us. Quick, courteous, professional staff…and the roof looks great. Thank you!!!
Michelle V.
Rhino-Back Roofing is the best!
Rhino-Back Roofing is the best! The job came out great and the price was more than fair. From beginning to end, the whole experience was great. Thanks again to Mike, Josh and the whole crew! I would recommend your company to anyone!
Stacy G.
A rating
Rhino-Back provided excellent service
I am very happy that I chose Rhino Back Roofing to replace my roof. From the estimate to the project's completion and follow up Rhino Back provided excellent service. Mike's informative overview of the project process and materials used was a step above his competition in terms of detail and genuine attentiveness to my questions. He also scheduled the project to meet my time schedule. The project itself was completed quickly and professionally by six of the hardest working people I have ever seen. Josh, their foreman, carefully supervised his crew and checked in with me to answer any questions I had. Indeed, Josh and Mike's affability were significant in making the project go smoothly and with a minimum of stress. At this time I am comfortable recommending Rhino Back Roofing without qualification. I think you will find that they go the extra mile to satisfy their customers.
Bill & Mary S.
Wonderful Roofing Experience
Wonderful experience in getting a new roof following the hail storm. Responsive to questions, dealt with insurance company, did great work. Highly recommend!!
Heller
Fairly priced, knowledgeable, and willing to answer any and all questions.
This is a fantastic company to work with! They think of everything and are extremely attentive and approachable. The crew was fantastic and did a wonderful job on my roof - from set up to clean up. After getting quotes from multiple companies, Mike and his team were by far the best choice - fairly priced, knowledgeable, and willing to answer any and all questions.
Stephanie S.
A rating
Rhino-Back Roofing was great. Mike spent a lot of time explaining the process and answering questions to put our mind at ease.
Rhino-Back Roofing was great. Mike spent a lot of time explaining the process and answering questions to put our mind at ease. He was a super nice person to work with and followed through on everything he said he would do. They were also very competitively priced and the products and workmanship were excellent. We would highly recommend Mike Trouern-Trend and Rhino-Back Roofing!
David & Ellen T.
Their quality of work was excellent and the job was done in two days
Mike and his team are awesome…highly recommend! We needed a new roof last year after it was damaged from the terrible winter weather. We had leaking in our kitchen and ice dams all over the roof. We looked at a few companies before deciding to use Mike and his team. Mike seemed like he truly cared and didn't treat us as just a number. He was very thorough with his estimate, answered all the questions we had, and even helped us provide the necessary info to our insurance company. Their quality of work was excellent and the job was done in two days. Mike even came back a few times to check and make sure everything was as it should be and our rain guard was working properly. Highly recommend them…look no further, Mike's your guy!
Jaime H.