Rhino-Back services East Hartford, Connecticut 06108
We Offer Expert East Hartford, CT Roofing
As a proud homeowner, you need a roofer in Connecticut that you can actually trust to give you the bottom line- no fluff, no runaround. Rhino-Back's management team has over 15 years of experience and has worked with hundreds and hundreds of happy homeowners to provide the best roofing services in East Hartford CT.
We specialize in all phases of the roof replacement process. Our family here at Rhino-back is dedicated to serving your needs in a timely manner with an emphasis on quality craftsmanship as well as a commitment to customer service excellence.
Our fully qualified staff is here to assist you with roof replacement services in East Hartford and are committed to our customer's satisfaction!
We are a East Hartford Connecticut Roofing Company with an A rating on Angie's List, and a 5 star rating on Google and Facebook. So if you're looking for a company that holds the highest standards for quality, craftsmanship and business reputation, you've come to the right place. It will be our pleasure to serve you!
If you need a Contractor in East Hartford CT, Call Rhino-Back at 860-217-1424 Today!
East Hartford, a town in Hartford County, Connecticut, has a population of 51,252. The town is located on the east bank of the Connecticut River, across from the capital city Hartford, Connecticut. It is home to aerospace manufacturer Pratt & Whitney. Rhino-Back are top-rated roof replacement in East Hartford CT experts and look forward to exceeding your East Hartford CT roof expectations. Hire the best East Hartford CT roofing contractors: Rhino-Back Roofing, we are a local family owned & operated company. Get a free East Hartford CT roofing quote today!
Services in East Hartford, CT
Get a East Hartford Roofing Estimate from Rhino-Back.
Easy Convenient Home Consultation in East Hartford
You can rely on Rhino-Back to solve many problems you may have. Contact our East Hartford Roofers for an easy, convenient home consultation. Every home is different. So we will inspect your property and put together a detailed scope of exactly what your home needs.
Real Labor and Material Warranty Backed by the Top Manufacturer
Another reason you can trust Rhino-Back is because we are one of only a handful of roofing companies in Connecticut with an exclusive certification with one of the industry's top manufacturers! If something goes wrong, you're backed with up to a 50-year labor and material warranty directly through the product manufacturer. A roof is only as good as the people who put it on and stand behind it. Most East Hartford home owners agree, they need a company that carries a real warranty!
View a few of our completed roofs near East Hartford below.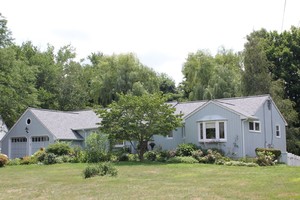 West Hartford, CT
Rhino-Back Roofing is a local roofing serving West Hartford, CT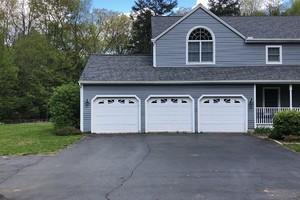 Granby, CT
Roof Replacement Granby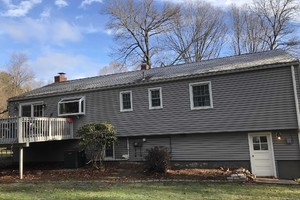 Simsbury, CT
"I knew who to trust!"
A rating
Best Experience I've ever had with a contractor.
Workers showed up exactly on time and immediately went to work removing old roof. Started at 7am and had new roof on and cleanup completed before the end of the day. Entire process was fully explained beforehand. Best experience I've ever had with a contractor.
Raymond W.
I highly recommend rhino back roofing and I am very happy with the results.
Have a roof stripped and reshingled is an extremely stressful experience, both mentally and financially but, I was impressed with the quality, timeliness, and professionalism of Mike, Tim, and the other guys showed before, during, and after my roof project. Rhino Back (Mike) was the ONLY company who checked up in my attic for circulation; all the others were going to give me venting I didn't need. Tim walked me through the process and kept me informed every step of the way. I had several ex and current builders watching the project and was told the workmanship was top notch; especially in regards to the chimney flashing and vapor barriers. When the job was completed, the guys made sure every nail was picked up. They even sent someone the following day to clean up after dumpster removal and do one more trip around the yard for anything that might have been missed.
Shannon Rossi
The crew was friendly, hardworking and professional.
I just want to give a shout out to Rhino Back Roofing. We hired them to do a new roof and even though the job was complicated by our home's structural problems, they took it in stride and were wonderful with communication. The crew was friendly, hardworking and professional. The site manager was great!! Thanks Mike And company!
Ellen & Tom A.
I felt like I was making an informed decision
A new roof is a big ticket item and I sure am glad I got this one right. Mike and the entire Rhino-Back team have been outstanding! From the initial consult to signing on the line, I felt like I was making an informed decision. It was apparent that Mike wanted to educate me in the process and allow me to make my decision based on data, examples of materials and previous customer reviews. I strongly believe the price was fair for the quality, warranty and excellent customer service I received throughout the process. The installers were quick and clean. The project manager, Tim, kept me informed of scheduling and was a strong presence on install day, and Frank took care of final clean-up the following day. I hope this review helps the next person pondering the roofing decision. I have sound piece-of-mind with my decision to have selected Rhino-Back. Best Regards, Tony
Tony F.
The whole experience was amazing!
We had hail damage and the whole experience was amazing from dealing with insurance and keeping me updated to super friendly and knowledgeable staff to professional and courteous installation team. I wouldn't hesitate to work with them again or recommend them. I like them so much we're working on getting my siding replaced next! Thanks, Mike, Melanie, and the whole gang!
Christina D.
Never have I had a company so concerned for customers and their home.
We recently had the best experience ever with Rhino-Back Roofing! Who ever thought putting a roof on your house and spending tons of $$$ would be great??? We DO. Never have I had a company so concerned for customers and their home. The Rhino-Back guys were professional and courteous and so detail oriented. I did get a few estimates for our job and Rhino-Back fell in the middle, but from a customer service perspective it was above and beyond and worth so much more! Mike came out and spent over 45 minutes explaining the entire project and costs, Josh called the day before and discussed all the details, the job was completed in one day, and the follow-up and cleanup were perfect. We had some snafus in scheduling, dumpster removal, etc but every step of the way, the guys were in constant communication and calls were answered immediately and Josh even came over within 15 minutes to answer some questions. I highly, highly recommend this company as their level of quality and customer service is above and beyond the norm. Thanks Rhino-Back, we'll recommend you always!
Kathy W.
"Best experience ever!"
Best experience ever! Mike was so thorough. Great product and made sure I understood the process. I couldn't believe I went to work one morning and came home to a completed job! You would not have known they were there except for the beautiful new roof! Completely cleaned up. Would highly recommend them 100%!
Barbara N.
I am a big fan of this family owned business.
I am a big fan of this family owned business. We just had our roof done by them. They were easy to work with, competitively priced and superior in their workmanship in every way. They were fast, clean, trustworthy and skilled. Can't say enough what a great job they did. They showed up when they said they would. We had no headaches, no complaints.
Eliza F.
A rating
Highly recommend the Rhino-Back Roofing. The whole roofing project was completed very quickly.
Mike is a thoughtful, hard-working, ambitious, professional businessman. He gives excellent communication about what to expect, about deliveries and about any interference with the schedule due to weather conditions. He and his 6-man crew are dependable, work fast and leave the work area immaculate when job is completed. Mike is very knowledgeable about materials used and explains everything to the customer. We are more than satisfied with this man's work. Highly recommend the Rhino-Back Roofing. The whole roofing project was completed very quickly. Excellent overall experience.
Ross & Pat F.
A rating
Mike and his crew were professional, thorough, punctual and efficient.
Complete roof replacement on 1904 home in historic district. Cedar shakes under two layers of asphalt removed, complete new decking, ice and water shield, replaced flashing where needed. Complex job, lots of dormers and odd angles. Mike and his crew were professional, thorough, punctual and efficient. The whole thing finished on budget and on schedule. When we encountered an unanticipated situation, they worked with us to find an economical and effective solution. I felt like part of the process from start to finish. All aspects were explained thoroughly from the day of the estimate, which was much appreciated. They cleaned up the site very well when finished. They showed up,when they said they would, and finished when they said they would. All around a very positive experience.
Stephen J.
High quality and workmanship!
The team at Rhino-Back Roofing provided exceptional service beginning with the claims process all the way through the installation. The professionalism and courtesy of the office staff, crew leads and supervisors was especially noticeable and appreciated. You will be pleased with the time taken by the company's owner to fully explain their standards of quality and workmanship.
Eric Wallace
They know what they're doing!
Mike and team recently replaced our roof, a number of skylights and added a rubber roof on a low pitch addition. As we went through the quoting process, Mike outlined various options and came up with some creative solutions that were very competitive on pricing. I'm writing this one month later and the completed work is excellent. The actual install took a day and the team was organized, methodical and very respectful of our property. I highly recommend you consider this business for any of the related services they provide.
Michael Gaul
Affordable and GREAT to work with.
Lisa Trouern-Trend and her husband Mike, own Rhino Back Roofing, a local family company. They did my roof in September and were affordable and GREAT to work with. We were in a similar situation and Mike walked us through all of our options. Highly recommend.
Jami H.
A rating
Rhino-Back did a great job and I would definitely recommend them to anyone needing a roof replacement or any type of roof work!
The roofing project went great! Starting with the initial estimate, Mike, the owner, was very clear and enthusiastic in presenting his company and the shingle roofing system they use. His pricing was also very reasonable. He was flexible on the start date as he knew I was starting a new job soon and wanted to be home the day of the job. On that day, Josh, the project supervisor was here about a half hour earlier than the start time. He was friendly and easy to talk to and answered any last questions I had as he explained how the job would proceed. The roofing team arrived a little early and immediately got to work. It was really amazing how energetic and efficient his crew was. They were nonstop action from beginning to end aside from a well deserved lunch break and finished the job in one day. I was expecting it would take two days so was pleasantly surprised. They also cleaned up my property very well and Josh even stopped by the next day to do a more detailed cleanup of smaller material. Finally, Mike followed up with a phone call a few days after completion to see if I had any questions or concerns. Rhino-Back did a great job and I would definitely recommend them to anyone needing a roof replacement or any type of roof work!
John G.
Rhinoback was a pleasure to work with!
Great overall experience; very thorough cleanup; very easy organization to work with!
Jed conley
The entire experience has been pleasant
The entire experience has been pleasant. Mike was polite and professional. The job was scheduled just a couple of weeks after the contract was signed and they did show up on time. They completed the job in 1 day and cleaned up the yard afterward. The roof looks refresh and neat and the material looks durable. So far I have not complaints.
Wei Fu
If you need a new roof, I could not recommend them more strongly.
We just had our roof done by Rhino Back Roofing and I had to give a shout out for them. Professional from the start to the end. High quality initial inspection, great shingle quality, stunning install, great prices, efficient and polite crew, immaculate clean-up and fantastic communication all the way through. If you need a new roof, I could not recommend them more strongly.
Heather C.
A rating
They were great. Came on time, finished quickly – earlier than expected. Very professional. Great owners and staff.
They were great. Came on time, finished quickly – earlier than expected. Very professional. Great owners and staff. Easy to contact. They called and kept us informed on every step of the project. A storm was coming in and they stayed late to make sure the project was finished so we would not have problems with leaks. They made sure to cleanup and the workmanship is wonderful. We have dealt with many contractors (fired a few) through the years and Rhino-Back roofing is the best. We would recommend them 100% percent. Great quality, workmanship and they made that we were happy.
Frank & Frances V.
We are extremely pleased with our new roof by Rhinoback Roofing.
Out of all of the companies that bid on our roof replacement, Mike was the only one who took the time to explain every detail of the project, including his findings from inspecting our attic and covered porch areas. He thoroughly reviewed with us the superior quality of his product (Owens Corning) vs the shingles and underlayment used by other companies. Our own research confirmed what Mike had shared. The crew was fantastic - thorough, clean, polite, and fast! They completed our large project in a single day. We are thrilled with the results and would recommend Rhinoback Roofing to anyone and everyone. Mike and his team definitely go 'above and beyond' to ensure a high-quality result.
Linda Casey
This is a 5-star outfit
was extremely pleased with Rhino-Back roofing owner Mike's attention to detail and completeness when explaining the roofing system, products, cost estimate and warranty. During the follow-up to the estimate, when we discussed some changes, Mike was prompt and very responsive via email and phone to resolve any issues. The Rhino-Back crew stripped all shingles, removed and replaced about 25 sheets of damaged or moldy plywood, replaced 2 skylights, and re-shingled the roof, all in only 1 day. The clean-up was thorough, and there was even a second clean-up person that came the following day to get any small debris that was missed by the roofing crew. This is a 5-star outfit, in my view, and I'd highly recommend them to anyone with a roofing issue.
Thomas S.