Rhino-Back services East Hartford, Connecticut 06108
We Offer Expert East Hartford, CT Roofing
As a proud homeowner, you need a roofer in Connecticut that you can actually trust to give you the bottom line- no fluff, no runaround. Rhino-Back's management team has over 15 years of experience and has worked with hundreds and hundreds of happy homeowners to provide the best roofing services in East Hartford CT.
We specialize in all phases of the roof replacement process. Our family here at Rhino-back is dedicated to serving your needs in a timely manner with an emphasis on quality craftsmanship as well as a commitment to customer service excellence.
Our fully qualified staff is here to assist you with roof replacement services in East Hartford and are committed to our customer's satisfaction!
We are a East Hartford Connecticut Roofing Company with an A rating on Angie's List, and a 5 star rating on Google and Facebook. So if you're looking for a company that holds the highest standards for quality, craftsmanship and business reputation, you've come to the right place. It will be our pleasure to serve you!
If you need a Contractor in East Hartford CT, Call Rhino-Back at 860-217-1424 Today!
Services in East Hartford, CT
Get a East Hartford Roofing Estimate from Rhino-Back.
Easy Convenient Home Consultation in East Hartford
You can rely on Rhino-Back to solve many problems you may have. Contact us for an easy, convenient home consultation. Every home is different. So we will inspect your property and put together a detailed scope of exactly what your home needs. Here's a list of the services we specializes in:
Replacement of asphalt shingle roofs
Roof ventilation
Roof-related siding and trim
Rubber roofs
Skylights
Chimney rebuild and repair
Roof flashing
Give us a call or click the "Free Estimate" button to schedule a free, in-home consultation!
Real Labor and Material Warranty Backed by the Top Manufacturer
Another reason you can trust Rhino-Back is because we've earned an exclusive certification with one of the industries top manufacturers! If something goes wrong, you're backed with up to a 50-year labor and material warranty directly through the product manufacturer. A roof is only as good as the people who put it on and stand behind it. Most home owners agree, they need a company that carries a real warranty!
View a few of our completed roofs near East Hartford below.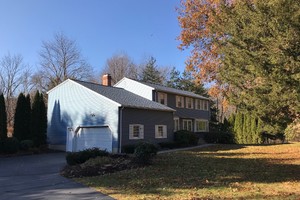 Simsbury, CT
Customer describes experience as exceptional, smooth & stress free.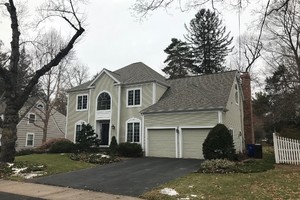 West Hartford, CT
Roofing project in West Hartford
Granby, CT
I highly recommend rhino back roofing and I am very happy with the results.
Have a roof stripped and reshingled is an extremely stressful experience, both mentally and financially but, I was impressed with the quality, timeliness, and professionalism of Mike, Tim, and the other guys showed before, during, and after my roof project. Rhino Back (Mike) was the ONLY company who checked up in my attic for circulation; all the others were going to give me venting I didn't need. Tim walked me through the process and kept me informed every step of the way. I had several ex and current builders watching the project and was told the workmanship was top notch; especially in regards to the chimney flashing and vapor barriers. When the job was completed, the guys made sure every nail was picked up. They even sent someone the following day to clean up after dumpster removal and do one more trip around the yard for anything that might have been missed.
Shannon Rossi
Granby Roofing Project
My Fiance and I live in Granby, CT and had Rhino Back replace our garage and walkway roof recently. It went about as well as it could possibly go. While it was a struggle to get other roofers we contacted to even call us back, Mike and his crew contacted us within a 1/2 hour of our initial inquiry online and he personally came out to look at the job the next day. After we made a deposit and picked out a color the crew was out there in a week or so. We left for work and when we got back we had a new roof!! They left the area cleaner then it was before they got there. And now we have a roof thats good for the next 50 yrs and a no questions asked warranty that transfers to the next owner. We probably could have found someone cheaper and saved a couple hundred bucks, but for what we got and how easy it was, the money was totally worth it. Mike even sent us brownies and a christmas card for crying out loud!!!
Nathan L.
Their professionalism, kindness, and thoroughness made the whole experience pleasant and hassle-free.
Rhino-Back Roofing came highly recommended to us when we had some leaking issues on our porch. I am happy to say that their professionalism, kindness, and thoroughness made the whole experience pleasant and hassle-free. Mike is extremely prompt and responsive, answering all questions and explaining everything in great detail. He is very knowledgeable and helped me, someone who knows nothing at all about home repairs, understand the ins and outs of a roof replacement. I was very confident after our first meeting. The actual job went great with updates and explanations along the way from Josh. Our yard was cleaned exceptionally well and now we are enjoying our beautiful new roof! Thank you so much!
Emma R.
Couldn't have gone better
Well done, done quickly, and at a fair price. Thoroughly cleaned up after themselves. Good communication and friendly service. Couldn't have gone better.
Jon Paul B.
A rating
It was the quickest, cleanest job I've ever seen, and we couldn't be happier with the way it came out.
Mike & Josh at Rhino-Back were outstanding to work with. We were closing on a home in Simsbury and discovered it needed a new roof. Mike went out to look the very next day to give an assessment – knowing that we were under a tight deadline with our close and with a snow storm on the way. He did an excellent job clearly explaining all of the work he was going to do, and kept in touch every step of the way. Josh was able to start and finish putting our roof on two days after we closed on the house and the day before the snow hit – it was the quickest, cleanest job I've ever seen, and we couldn't be happier with the way it came out. We would definitely recommend Rhino-Back to anyone.
Kevin & Stephanie O.
The work was done on the exact timeline that was promised. The cleanup was impressive. The job looks great.
This is a family owned business. Owners Mike and Lisa are both very involved in the business and live locally. Mike is a professional who is customer focused. My roof was leaking leading up to the job and I realized that an incoming storm was going to cause problems. I left Mike a voicemail around 8pm and the next morning at 8am he had his site supervisor at my house to put a temporary tarp on. Made all the difference and was a great way to start a relationship with a customer. In every way, my interactions with Mike were top notch. His crew does operate independently meaning Mike is not on-site when the work gets done. The one and only item that came up was during the installation of the plywood overlay. The crew missed a board of wood that had begun to rot from the inside. Once I pointed it out they ripped up the plywood and replaced the piece at their own cost. Still, I didn't like having to get involved especially around an area that was discussed heavily during the sales process. However, they made it right immediately when I brought it to their attention and this was the only item that came up. Overall.... The work was done on the exact timeline that was promised. The cleanup was impressive. The job looks great. Time will tell with regard to the work product but during yesterday's downpour everything stayed dry. If my mother needed her roof done tomorrow, I'd hire these guys. You could go cheaper but you'd probably pay for it in the long run. Good value. Thanks Mike!
Isaac F.
A rating
Their entire crew and personnel were very professional and pleasant to work with.
Everything went well. Mike was even patient when we changed a few items a few times. He worked with us the entire time. We felt confident in their ability to meet our expectations and they did. The clean up was also excellent. They even sent someone back after to triple check for remaining nails. Excellent work all around. Their entire crew and personnel were very professional and pleasant to work with.
Pamala C.
We are thrilled with the results and would recommend Rhinoback Roofing to anyone and everyone.
We are extremely pleased with our new roof by Rhinoback Roofing. Out of all of the companies that bid on our roof replacement, Mike was the only one who took the time to explain every detail of the project, including his findings from inspecting our attic and covered porch areas. He thoroughly reviewed with us the superior quality of his product (Owens Corning) vs the shingles and underlayment used by other companies. Our own research confirmed what Mike had shared. The crew was fantastic - thorough, clean, polite, and fast! They completed our large project in a single day. We are thrilled with the results and would recommend Rhinoback Roofing to anyone and everyone. Mike and his team definitely go 'above and beyond' to ensure a high-quality result.
Linda C.
Definitely recommend Rhino-Back Roofing for your roofing needs!
Mike and his team were extremely helpful at solving our complex roofing needs, (flat leaking roof with very poor drainage). They worked exceptionally well with our schedule and put our needs first and foremost. The job was completed extremely fast and efficiently and beyond our expectations. The best part is everything is the warranty is for much longer than we ever expected. Definitely recommend Rhino-Back Roofing for your roofing needs!
Matthew & Danielle L.
A rating
I would highly recommend Rhino-Back Roofing.
Mike's team of roofers were very good. They came, removed the old shingles and put the new one on in a day and left my property spotless. I had been having an issue with leaking around the chimney and they took the time after removing the shingles to let me inspect the plywood to understand what was causing the issue (step flashing and disintegrated ice and water shield after 20 years). I had been set to go with another roofer when Mike happened to contact me and ask me if I was interested in getting a quote for a new roof. His price was in line with other estimates, but I really liked working with Mike because he answered all my questions and didn't mind that I asked lots of question. And if he didn't have an answer, he got back to me with an answer. He and Josh were also very good at keeping me posted in terms of start date, delivery of dumpster, etc and they were easy to get a hold of. I would highly recommend Rhino-Back Roofing.
Jen G.
I'm glad we went with Rhino-Back and would absolutely recommend them to friends.
We just had our roof done, and were very pleased with RhinoBack. Mike and his team were great to work with and followed through to make sure we were completely satisfied with the new roof – even after paid in full. They were very responsive and came back a couple of times to make sure they cleaned everything up (had to wait for the snow to melt on the ground). We got several quotes for our roof, but I'm glad we went with RhinoBack and would absolutely recommend them to friends.
Trey & Kim S.
Affordable and GREAT to work with.
Lisa Trouern-Trend and her husband Mike, own Rhino Back Roofing, a local family company. They did my roof in September and were affordable and GREAT to work with. We were in a similar situation and Mike walked us through all of our options. Highly recommend.
Jami H.
Rhino-Back Roofing is a fantastic company and I can't say enough good things about them
Rhino-Back Roofing is a fantastic company and I can't say enough good things about them. I have a beautiful new roof and chimney as of today! Working with Mike is like working with your best friend! He's genuine, friendly, and honest and makes you feel at ease and comfortable. He really cares about getting you the best roof for the best price, and will do anything it takes! We interviewed several roofers and Mike's price was very competitive (actually I think it was the lowest bid even though he had the best Owens Corning materials and warranty). He was very patient with me when I had questions, explaining all my options and the pro's and con's of different methods. When I preferred adding a ridge vent and soffit vents rather than the roof top fan that he recommended, he gave me a price using both methods. I ultimately chose the ridge and soffit vents and his supervisor, Josh cut the soffit vents himself the day before installation. When I thought we needed a few more vents, Josh added 3 more on installation day at no additional charge!. Since a tree had damaged the back eave of the garage, Mike said he'd take care of that for us, and Josh replaced the plywood, back eave and gutter. Josh is an expert craftsman and the result is beautiful! My roof was leaking over my porch and when the tarp we installed failed, Mike pushed up my roof installation date to accommodate me and get the job done. Mike is very involved from start to finish and kept me informed every step of the way. Both he and Josh returned every phone call and text immediately or within a couple of hours. When I woke up on installation day and realized I hadn't asked Mike to include my shed roof, I asked Josh if he could possibly do the shed also. Since they'd ordered extra shingles, they had enough to do my shed and got that done too! The house, garage and shed were done in one day and Josh was on hand all day answering my questions and taking me for a walk around to see the work being done. The roofing crew were professional, courteous and very hard working on a very cold and windy day! I enjoyed talking to them from time to time and was amazed at the beautiful work they were doing. They made sure I had clear access to my doorways as I went in and out during the day, raking away leaves and nails for me. They did an amazing clean up job, even raking all the stubborn leaves from under my bushes along the house. It was like having a fall cleanup crew free of charge! When Josh inspected my chimney the day before installation, he said it would need a rebuild within the year. Since I'd taken out a low interest Energy Conservation Loan from Capital for Change, I wanted get the chimney done immediately in order to add the cost of the chimney rebuild to my loan, which would require completing new paperwork and a few days delay in payment to the roof crew. Mike was completely understanding, patient and helpful, getting me the new paperwork I needed for the loan. He quickly lined up a chimney mason and crew, and within 5 days of the roof installation, the chimney was done (today!). I highly recommend Rhino-Back Roofing with no reservations! Working with Mike was the best experience a girl (or woman with not roofing knowledge) could ask for. Choose Rhino-Back Roofing! You won't be disappointed!
Joanne D.
If you need a new roof, I could not recommend them more strongly.
We just had our roof done by Rhino Back Roofing and I had to give a shout out for them. Professional from the start to the end. High quality initial inspection, great shingle quality, stunning install, great prices, efficient and polite crew, immaculate clean-up and fantastic communication all the way through. If you need a new roof, I could not recommend them more strongly.
Heather C.
The customer service was amazing! Thank you!
I'm so glad to be a part of SMU. After a handful of roofing contractors fell through I came to you for guidance then Rhino Back Roofing came to my rescue. The next day after contacting them, they came out to access my situation and offered great advice! Not to mention the customer service was amazing! Thank you!
Lacey H.
A rating
Rhino-Back Roofing was fantastic from start to finish.
Rhino-Back Roofing was fantastic from start to finish. They spent a lot of time evaluating the job, answering questions, explaining the process and the products they would use. They provided a very detailed estimate. They were able to schedule the job very quickly since it was estimated at a 1/2-day project. They gave us feedback on everything we would need to do to prep for the project – acquiring a dumpster, clearing some trees – and then gave us updates as materials were delivered, followed by check-ins to ensure the materials were correct. The crew is fantastic – very respectful and friendly. They work quickly and efficiently – clearly have been a team for a while. They needed to do some extra repair work once the old roof was removed, and quickly got the materials they needed and made the repairs. Due to that, they thought they might need extra time, but they were still able to finish by the end of the day. Their clean-up was phenomenal – they checked all around the premises for pieces of roofing, nails, etc. They came by to do a walk-around to check on the work. The quality of the roofing materials is fantastic – wish that our whole house had these products! They stayed in touch regarding the warranty papers and even sent a beautiful thank you gift. We would highly recommend Mike Trouern-Trend and Rhino-Back Roofing!
James & Laura O.
A rating
Rhino-Back provided excellent service
I am very happy that I chose Rhino Back Roofing to replace my roof. From the estimate to the project's completion and follow up Rhino Back provided excellent service. Mike's informative overview of the project process and materials used was a step above his competition in terms of detail and genuine attentiveness to my questions. He also scheduled the project to meet my time schedule. The project itself was completed quickly and professionally by six of the hardest working people I have ever seen. Josh, their foreman, carefully supervised his crew and checked in with me to answer any questions I had. Indeed, Josh and Mike's affability were significant in making the project go smoothly and with a minimum of stress. At this time I am comfortable recommending Rhino Back Roofing without qualification. I think you will find that they go the extra mile to satisfy their customers.
Bill & Mary S.
A rating
Every aspect of the process went impeccably
Every aspect of the process went impeccably, from my first meeting with Mike to the time that the roof was completed. Mike carefully explained the complete process in full detail and everything went according to plan. His staff is kind and courteous and his team of installers is highly skilled and take great pride in their work. I would highly recommend Rhino-Back Roofing, to family, neighbors and friends. Please consider using them if you are in need of a roof. I assure you that you will be pleased you did.
Scott S.
" Skillful and very efficient"
Kudos to the entire Rhino-Back Roofing team. Mike and Melanie did a great job for us. Starting at documenting the hail damage with the insurance company to answering all of our questions through out the whole project. The roofing team was careful of shrubs and property, skillful and very efficient through out the installation of multiple roofs on two structures. Management, staff, and tradesmen and women were consistently courteous and accommodating of our needs. Many thanks to all of you.
Roger & Diane H.
A rating
Best Experience I've ever had with a contractor.
Workers showed up exactly on time and immediately went to work removing old roof. Started at 7am and had new roof on and cleanup completed before the end of the day. Entire process was fully explained beforehand. Best experience I've ever had with a contractor.
Raymond W.