Rhino-Back services East Granby, Connecticut 06026
We Offer Expert East Granby, CT Roofing
As a proud homeowner, you need a roofer in Connecticut that you can actually trust to give you the bottom line- no fluff, no runaround. Rhino-Back's management team has over 15 years of experience and has worked with hundreds and hundreds of happy homeowners to provide the best roofing services in East Granby CT.
We specialize in all phases of the roof replacement process. Our family here at Rhino-back is dedicated to serving your needs in a timely manner with an emphasis on quality craftsmanship as well as a commitment to customer service excellence.
Our fully qualified staff is here to assist you with roof replacement services in East Granby and are committed to our customer's satisfaction!
We are a East Granby Connecticut Roofing Company with an A rating on Angie's List, and a 5 star rating on Google and Facebook. So if you're looking for a company that holds the highest standards for quality, craftsmanship and business reputation, you've come to the right place. It will be our pleasure to serve you!
If you need a Contractor in East Granby CT, Call Rhino-Back at 860-217-1424 Today!
Services in East Granby, CT
Get a East Granby Roofing Estimate from Rhino-Back.
Easy Convenient Home Consultation in East Granby
You can rely on Rhino-Back to solve many problems you may have. Contact us for an easy, convenient home consultation. Every home is different. So we will inspect your property and put together a detailed scope of exactly what your home needs. Here's a list of the services we specializes in:
Replacement of asphalt shingle roofs
Roof ventilation
Roof-related siding and trim
Rubber roofs
Skylights
Chimney rebuild and repair
Roof flashing
Give us a call or click the "Free Estimate" button to schedule a free, in-home consultation!
Real Labor and Material Warranty Backed by the Top Manufacturer
Another reason you can trust Rhino-Back is because we've earned an exclusive certification with one of the industries top manufacturers! If something goes wrong, you're backed with up to a 50-year labor and material warranty directly through the product manufacturer. A roof is only as good as the people who put it on and stand behind it. Most home owners agree, they need a company that carries a real warranty!
View a few of our completed roofs in East Granby below.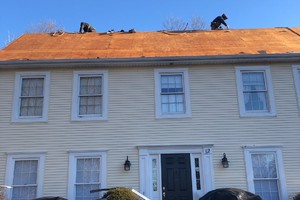 East Granby, CT
Roof Hail Damage - Insurance Replacement
Testimonials & Reviews from East Granby
HIGHLY RECOMMEND!!! Great communication, pricing and quality work. Durning the project was kept updated. Crew was respectful, did excellent work, and cleaned up after themselves. Minimal disruption to our day. Professional and honest! Great experience and beautiful end results.
---
Testimonial from Chris & Lou H. Spoonville Road, East Granby, CT
Review originally posted on
Our experience with Rhino Back Roofing almost seemed too good to be true. That feeling prevailed from the point when Mike arrived (right on time) for our estimate to the final walk-around inspection with the project manager, Josh, to assure that we were completely satisfied with our new roof installation. Mike spent far more time with us during the estimate than any other contractor. After doing a thorough inspection and measurement of our roof edges, roof surfaces, perimeter trim, and fascia boards he sat down with us and went through what materials would be used and why and walked us through the old roof removal, repair measures, and new roof installation. He answered our questions in a professional and knowledgeable manner then stepped out to his car to work up our estimate. Several minutes later he knocked on the door and handed us a printed and very detailed estimate that was competitive with other estimates we had received. Everything happened when and how it was promised. The installation crew was amazing. They were efficient and hard working. The on-site carpenter replaced all the rotted fascia, soffits, and trim while the crew installed the full perimeter drip edge and underlayment materials exactly as specified. The roof area around the chimney was waterproofed, the chimney was re-leaded and then the new roof shingles were installed. During the entire process, the crew was all business; each member seemed to know exactly where he needed to be and what to do, so things moved very quickly. Clean up was thorough. The driveway and lawn were swept and raked until there was no debris visible. Finally, a magnetic roller was run up and down the driveway and all around the house multiple times to pick up any roofing nails that might be left on the ground. We are very pleased with our new roof! Having watched the entire installation process, we can say that everything we asked for was done perfectly and every part of the roof system was installed with meticulous care. If you're looking for excellent customer service and a quality roof, we would enthusiastically recommend Rhino Back Roofing.
A rating
---
Testimonial from Robert C. Pinewood Road, East Granby, CT
Review originally posted on
Love, love, love my new roof. An investment like this can be rather daunting but Rhino Back Roofing made it to easy. Out of the 5 contractors I reached out to, Mike spent the most time with us. He explained everything in detail, what he recommends, why he uses the products he does and answered all our questions. He is very knowledgeable and you can tell very passionate about his business. The team came and finished the roof in 1.5 days. They worked very hard, were very polite and did a good job cleaning up. The project manager Josh was onsite during the entire job and made sure everything was being done correctly and to answer any of our questions. The tiles we picked out look great on the house: Sedona Canyon. Its hard to tell from looking at a small sample. Mike worked with us, showed us multiple colors and also felt it Sedona Canyon would look good. Highly recommend Rhino Back Roofing. Thank you Mike, Josh and team!
A rating
---
Testimonial from Jutta G. Holcomb Street, East Granby, CT
Review originally posted on
Working with Rhinoback was as painless a process as humanly possible. I contacted 4 local companies for quotes; they were the only ones to call me back. Communication was excellent, their quote was honest and fair, they showed up when they said they would, completed the job quickly and cleaned up thoroughly. We have been putting off this project for years, and we are so relieved to have it behind us and to feel so confident in the workmanship. The thank you note and delivery of brownies was a nice touch too :-)
---
Testimonial from Mike & Becky H. Cedar Ridge Road, East Granby, CT
Review originally posted on
A truly amazing, unexpected experience! Begins with a meeting by Mike, a review of your needs, and a professional quote of the work to be performed. Mike recites precisely what we should expect and, in detail, how it will occur. After speaking with a few other roofers, there was no question, this was the personable company to hire! Extremely professional workers who performed an impeccable job! After watching neighbors replacing their roof with other companies, these same neighbors replied personally to me how amazing this job was and could not believe it only took ONE day! I shared in their amazement as that aspect, although Mike said probably 1 day, was difficult to believe. I'm a believer now! If you're seeking a roofer, don't waste your time with others. THIS is the company to hire, hands down!
A rating
---
Testimonial from Terry F. Alderman Lane, East Granby, CT
Review originally posted on
Rhino Back was one of the best contractors that I have worked with in a long time. Mike and Josh were very professional as well as there crew. The job was completed in one day, and they even sent someone back the following day to make sure that the cleanup was done to perfection. I received pricing from 4 other contractors and they fell in the middle. I would highly recommend Rhino Back for your next roofing project. Its was nice to work with a company that cares about there customers.
A rating
---
Testimonial from Steve G. Candlewood Lane, East Granby, CT
Review originally posted on