Rhino-Back services Agawam, Massachusetts 01001
We Offer Expert Agawam, MA Roofing
As a proud homeowner, you need a roofer in Massachusetts that you can actually trust to give you the bottom line- no fluff, no runaround. Rhino-Back's management team has over 15 years of experience and has worked with hundreds and hundreds of happy homeowners to provide the best roofing services in Agawam MA.
We specialize in all phases of the roof replacement process. Our family here at Rhino-back is dedicated to serving your needs in a timely manner with an emphasis on quality craftsmanship as well as a commitment to customer service excellence.
Our fully qualified staff is here to assist you with roof replacement services in Agawam and are committed to our customer's satisfaction!
We are a Agawam Massachusetts Roofing Company with an A rating on Angie's List, and a 5 star rating on Google and Facebook. So if you're looking for a company that holds the highest standards for quality, craftsmanship and business reputation, you've come to the right place. It will be our pleasure to serve you!
If you need a Contractor in Agawam MA, Call Rhino-Back at 413-930-3400 Today!
Need a Roof Replacement in Agawam MA? Rhino-Back Roofing replacement experts in Agawam are highly knowledgeable, professional, and dedicated to completing your project on time. Call us now to get a free Roof Replacement in Agawam MA quote. Rhino-back roofing is fast & reliable and most of our projects come with a lifetime roof warranty.
Services in Agawam, MA
Get a Agawam Roofing Estimate from Rhino-Back.
Easy Convenient Home Consultation in Agawam
You can rely on Rhino-Back to solve many problems you may have. Contact our Agawam Roofers for an easy, convenient home consultation. Every home is different. So we will inspect your property and put together a detailed scope of exactly what your home needs.
Real Labor and Material Warranty Backed by the Top Manufacturer
Another reason you can trust Rhino-Back is because we are one of only a handful of roofing companies in Massachusetts with an exclusive certification with one of the industry's top manufacturers! If something goes wrong, you're backed with up to a 50-year labor and material warranty directly through the product manufacturer. A roof is only as good as the people who put it on and stand behind it. Most Agawam home owners agree, they need a company that carries a real warranty!
View a few of our completed roofs near Agawam below.
West Hartford, CT
Roof replacement in West Hartford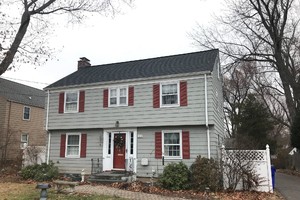 West Hartford, CT
Exceptional work, completed on time.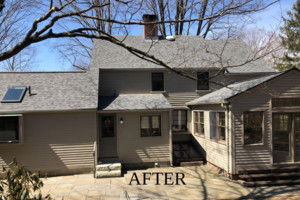 Simsbury, CT
Roof Replacement Simsbury Gray Shingles
Professional and highly competent from start to finish!
During the quoting stage, I was presented with options and given clear explanations on the pros and cons of each. They went beyond what anyone else did and made recommendations that others overlooked, but made perfect sense to do. The work was completed as scheduled and clean up was thorough. Even after the job was done and paid for, Mike made a point of following up to see if I had any questions or problems. Total professionals! I would recommend them highly to anyone needing roofing work done.
Troy Chicoine
A rating
Very professional and great to work with
Mike did a great job selecting the appropriate color tiles. The timeline of the project was laid out and all deadlines were met or exceeded. The new roof sections were seamlessly matched to the existing roof–the workmanship is excellent The cleanup was impeccable. The entire team was very professional and great to work with. I highly recommend Rhino Back.
Lois W.
Very happy with my Roof!
Professional, On time, and great quality. Not your ordinary roofer. They strive to make you feel like family. No up-selling just straight what you want at the best quality of products.
Heli Patel
Quick, courteous, professional staff…
Shout out to local family business, Rhino Roofing, who just put a new roof on for us. Quick, courteous, professional staff…and the roof looks great. Thank you!!!
Michelle V.
A rating
Rhino-Back Roofing was fantastic from start to finish.
Rhino-Back Roofing was fantastic from start to finish. They spent a lot of time evaluating the job, answering questions, explaining the process and the products they would use. They provided a very detailed estimate. They were able to schedule the job very quickly since it was estimated at a 1/2-day project. They gave us feedback on everything we would need to do to prep for the project – acquiring a dumpster, clearing some trees – and then gave us updates as materials were delivered, followed by check-ins to ensure the materials were correct. The crew is fantastic – very respectful and friendly. They work quickly and efficiently – clearly have been a team for a while. They needed to do some extra repair work once the old roof was removed, and quickly got the materials they needed and made the repairs. Due to that, they thought they might need extra time, but they were still able to finish by the end of the day. Their clean-up was phenomenal – they checked all around the premises for pieces of roofing, nails, etc. They came by to do a walk-around to check on the work. The quality of the roofing materials is fantastic – wish that our whole house had these products! They stayed in touch regarding the warranty papers and even sent a beautiful thank you gift. We would highly recommend Mike Trouern-Trend and Rhino-Back Roofing!
James & Laura O.
"Best experience ever!"
Best experience ever! Mike was so thorough. Great product and made sure I understood the process. I couldn't believe I went to work one morning and came home to a completed job! You would not have known they were there except for the beautiful new roof! Completely cleaned up. Would highly recommend them 100%!
Barbara N.
Affordable and GREAT to work with.
Lisa Trouern-Trend and her husband Mike, own Rhino Back Roofing, a local family company. They did my roof in September and were affordable and GREAT to work with. We were in a similar situation and Mike walked us through all of our options. Highly recommend.
Jami H.
I felt like I was making an informed decision
A new roof is a big ticket item and I sure am glad I got this one right. Mike and the entire Rhino-Back team have been outstanding! From the initial consult to signing on the line, I felt like I was making an informed decision. It was apparent that Mike wanted to educate me in the process and allow me to make my decision based on data, examples of materials and previous customer reviews. I strongly believe the price was fair for the quality, warranty and excellent customer service I received throughout the process. The installers were quick and clean. The project manager, Tim, kept me informed of scheduling and was a strong presence on install day, and Frank took care of final clean-up the following day. I hope this review helps the next person pondering the roofing decision. I have sound piece-of-mind with my decision to have selected Rhino-Back. Best Regards, Tony
Tony F.
A rating
I would highly recommend Rhinoback for your next roofing project.
Rhino Back was one of the best contractors that I have worked with in a long time. Mike and Josh were very professional as well as there crew. The job was completed in one day, and they even sent someone back the following day to make sure that the cleanup was done to perfection. I received pricing from 4 other contractors and they fell in the middle. I would highly recommend Rhino Back for your next roofing project. Its was nice to work with a company that cares about there customers.
Steve G.
Rhino-Back Roofing was an absolute pleasure to deal with from start to finish
Rhino-Back Roofing was an absolute pleasure to deal with from start to finish. A phone call to them was promptly returned. Mike T scheduled an appointment to meet with my wife and I the next day. A dead tree fell on our roof and caused significant damage. Mike was able to assess the damage, recommend what needed to be done and assisted us with negotiating a settlement with our insurance company. The work was done as scheduled and completed in one day (strip damaged roof over two car garage, install ridge vent, replace shingles, replace gutters and check main roof. Clean-up was outstanding. It was a pleasure dealing with the foreman the day of the job. I am extremely pleased with the over-all experience and finished product. Rhino-Back Roofing has earned my highest recommendation.
Clay K.
The best roofers in the area!
Five-star customer service, quality, and timeliness. Tim North, the on-site manager, was present at my home at all times ensuring me that everything was on track. They went above and beyond and I highly recommend them for all your roofing needs.
Martha K
A rating
It was the quickest, cleanest job I've ever seen, and we couldn't be happier with the way it came out.
Mike & Josh at Rhino-Back were outstanding to work with. We were closing on a home in Simsbury and discovered it needed a new roof. Mike went out to look the very next day to give an assessment – knowing that we were under a tight deadline with our close and with a snow storm on the way. He did an excellent job clearly explaining all of the work he was going to do, and kept in touch every step of the way. Josh was able to start and finish putting our roof on two days after we closed on the house and the day before the snow hit – it was the quickest, cleanest job I've ever seen, and we couldn't be happier with the way it came out. We would definitely recommend Rhino-Back to anyone.
Kevin & Stephanie O.
Thanks again guys!
Mike and his entire staff are professional, trustworthy and do an amazing job from start to finish. Highly recommend Rhino-Back. Support local!!!
Paola Maroney
A rating
I would unhesitatingly call them again, and am happy to recommend them here.
What makes for a great roofer? Good price, of course. But the work has to be quality and the materials top notch. They should arrive when they say they will, perform the work in a timely fashion, and clean up the area, leaving it in the condition they found it. If you agree that this describes a great roofer, then you've found who you are looking for in Rhino-Back Roofing in Simsbury, CT. They arrived punctually at 7 a.m. with an 8-man crew; had both layers of the old roof off by noon, and by dinner their meticulous clean-up left my property neater than they found it! Plus, they were courteous, attentive to detail, and followed up to make sure nothing had been forgotten. I would unhesitatingly call them again, and am happy to recommend them here.
Stephan A.
I have never been so well treated by any company in my lifetime.
The people at Rhino-Back Roofing are the most professional and courteous I've ever had the pleasure to deal with. They sincerely care about their customers and want you to be happy and satisfied and will do whatever is necessary to ensure that. I had dealings with several personnel at Rhino-Back over the course of the roof replacement on my home and all were easy to talk to and helpful. I would highly recommend them for any roofing needs.
Joseph Anthony
Working with Rhino-Back was as painless a process as humanly possible.
Working with Rhinoback was as painless a process as humanly possible. I contacted 4 local companies for quotes; they were the only ones to call me back. Communication was excellent, their quote was honest and fair, they showed up when they said they would, completed the job quickly and cleaned up thoroughly. We have been putting off this project for years, and we are so relieved to have it behind us and to feel so confident in the workmanship. The thank you note and delivery of brownies was a nice touch too :-)
Mike & Becky H.
A rating
I would recommend Rhino-Back to my neighbors
Everything was completed as promised, crew arrived bright and early, entire job finished in one day, no surprises or extra costs, and looks great! Mike was very professional, explained everything thoroughly and was helpful in deciding the best options for the job. Josh and the 7-man crew were great, hard-working, cleaned up everything when finished. I would recommend Rhino-Back to my neighbors.
Jeff C.
I cannot say enough good things about Rhino-Back Roofing
I cannot say enough good things about Rhino-Back Roofing. The level of service and professionalism, paired with the end result, is far beyond anything I could have hoped for with this project. From the very beginning, Mike and his team were available, informative and made us feel part of the family. We just moved into our very first New England home and found we needed a FULL roof replacement. Here are a few points that highlighted the process for me: • Very detailed initial consultation (complete with attic walk-thru). • Convenient and timely scheduling of work (within 2 weeks). • Fair and equitable pricing. • Top of the line products. • Single day full roof replacement and same day clean up. • Amazing end product and follow up that it met our expectations. This final piece is key and speaks to the character of the company and its owner. A few days after completion, I noticed some damage to my back deck. To be honest, I wasn't sure if this was already there but I called Mike to see what my options were and get his opinion. I didn't even have to ask and Mike had someone out to take a look within an hour and called me back that night to let me know he was arranging for someone to replace that portion of the deck! To be clear, this was almost certainly a pre-existing issue due to some natural rotting. However, since the issue may have been accelerated by his crew, he wanted to take care of it. Now THAT is how you build a reputation. Thank you, Rhino-Back Roofing. Thank you, Mike. Zack
Zack M.
Will go back to them for another project soon.
We had a refreshing experience with Rhino-back. From contract to completion, the job scope and work logistics were clear and concise. Each member of the team that we came into contact with was professional, helpful and knowledgable. The project manager fit us into the schedule and went out of his way to make us feel like we were the only clients he had.
Cassandra LaChance
I highly recommend rhino back roofing and I am very happy with the results.
Have a roof stripped and reshingled is an extremely stressful experience, both mentally and financially but, I was impressed with the quality, timeliness, and professionalism of Mike, Tim, and the other guys showed before, during, and after my roof project. Rhino Back (Mike) was the ONLY company who checked up in my attic for circulation; all the others were going to give me venting I didn't need. Tim walked me through the process and kept me informed every step of the way. I had several ex and current builders watching the project and was told the workmanship was top notch; especially in regards to the chimney flashing and vapor barriers. When the job was completed, the guys made sure every nail was picked up. They even sent someone the following day to clean up after dumpster removal and do one more trip around the yard for anything that might have been missed.
Shannon Rossi