Rhino-Back services Agawam, Massachusetts 01001
We Offer Expert Agawam, MA Roofing
As a proud homeowner, you need a roofer in Massachusetts that you can actually trust to give you the bottom line- no fluff, no runaround. Rhino-Back's management team has over 15 years of experience and has worked with hundreds and hundreds of happy homeowners to provide the best roofing services in Agawam MA.
We specialize in all phases of the roof replacement process. Our family here at Rhino-back is dedicated to serving your needs in a timely manner with an emphasis on quality craftsmanship as well as a commitment to customer service excellence.
Our fully qualified staff is here to assist you with roof replacement services in Agawam and are committed to our customer's satisfaction!
We are a Agawam Massachusetts Roofing Company with an A rating on Angie's List, and a 5 star rating on Google and Facebook. So if you're looking for a company that holds the highest standards for quality, craftsmanship and business reputation, you've come to the right place. It will be our pleasure to serve you!
If you need a Contractor in Agawam MA, Call Rhino-Back at 413-930-3400 Today!
Need a Roof Replacement in Agawam MA? Rhino-Back Roofing replacement experts in Agawam are highly knowledgeable, professional, and dedicated to completing your project on time. Call us now to get a free Roof Replacement in Agawam MA quote. Rhino-back roofing is fast & reliable and most of our projects come with a lifetime roof warranty.
Services in Agawam, MA
Get a Agawam Roofing Estimate from Rhino-Back.
Easy Convenient Home Consultation in Agawam
You can rely on Rhino-Back to solve many problems you may have. Contact our Agawam Roofers for an easy, convenient home consultation. Every home is different. So we will inspect your property and put together a detailed scope of exactly what your home needs.
Real Labor and Material Warranty Backed by the Top Manufacturer
Another reason you can trust Rhino-Back is because we are one of only a handful of roofing companies in Massachusetts with an exclusive certification with one of the industry's top manufacturers! If something goes wrong, you're backed with up to a 50-year labor and material warranty directly through the product manufacturer. A roof is only as good as the people who put it on and stand behind it. Most Agawam home owners agree, they need a company that carries a real warranty!
View a few of our completed roofs near Agawam below.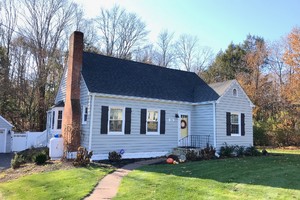 Simsbury, CT
We cannot say enough good things about Rhino-Back Roofing.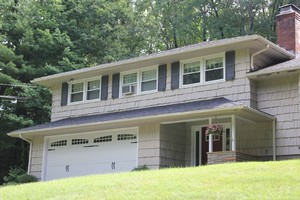 Simsbury, CT
Roofing Project in Simsbury-Before & After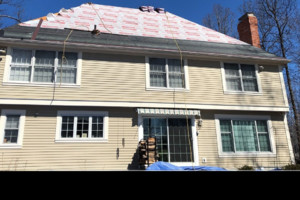 Granby, CT
Weatogue Roof Replacement
Mike , Tim and his Team were very professional. The Rhino team left my property very clean especially dealing with snow and the cold weather, all the logistics were very seamless from setting the dumpster delivery to taking old roof off then putting new roof on. I couldn't have asked for a more knowledgable group to help with such a big investment. Thank you Rhino Team for giving our house new life! happy new years and cheers to you, I would recommend you guys to anyone.
Erik C.
A rating
Did a fabulous job, showed up on time, finished on time.
Provided a new roof. Stripped off 2 layers of shingles. Installed 2 new skylights and re-flashed others. Did a fabulous job, showed up on time, finished on time. CLEANED UP!
Marialta S.
A rating
If you're looking for excellent customer service and a quality roof, we would enthusiastically recommend Rhino-Back Roofing.
Our experience with Rhino Back Roofing almost seemed too good to be true. That feeling prevailed from the point when Mike arrived (right on time) for our estimate to the final walk-around inspection with the project manager, Josh, to assure that we were completely satisfied with our new roof installation. Mike spent far more time with us during the estimate than any other contractor. After doing a thorough inspection and measurement of our roof edges, roof surfaces, perimeter trim, and fascia boards he sat down with us and went through what materials would be used and why and walked us through the old roof removal, repair measures, and new roof installation. He answered our questions in a professional and knowledgeable manner then stepped out to his car to work up our estimate. Several minutes later he knocked on the door and handed us a printed and very detailed estimate that was competitive with other estimates we had received. Everything happened when and how it was promised. The installation crew was amazing. They were efficient and hard working. The on-site carpenter replaced all the rotted fascia, soffits, and trim while the crew installed the full perimeter drip edge and underlayment materials exactly as specified. The roof area around the chimney was waterproofed, the chimney was re-leaded and then the new roof shingles were installed. During the entire process, the crew was all business; each member seemed to know exactly where he needed to be and what to do, so things moved very quickly. Clean up was thorough. The driveway and lawn were swept and raked until there was no debris visible. Finally, a magnetic roller was run up and down the driveway and all around the house multiple times to pick up any roofing nails that might be left on the ground. We are very pleased with our new roof! Having watched the entire installation process, we can say that everything we asked for was done perfectly and every part of the roof system was installed with meticulous care. If you're looking for excellent customer service and a quality roof, we would enthusiastically recommend Rhino Back Roofing.
Robert C.
Efficient from the time we had our first meeting
Mike was efficient from the time we had our first meeting. He set all expectations and there were no surprises. From project time to dumpster drop off and pick up to clean up . This was a big job and it took 2 days. I was around for most of it and it was a pleasant experience! They all work very hard. Josh was supervising and did not miss a beat. He answered all questions. Marcos and his team were professional , respectful and extremely diligent. Mike runs a great company and treats his employees with respect. Looking forward to easier winters. Thank you for our new roof and skylights!!
Jennifer S.
A rating
The quality of the roof and the work is excellent
Everyone was very professional from the beginning of the process. The quality of the roof and the work is excellent. They came on time, and everything was done on the same day without any issues. Their customer service is excellent as well.
Alex Z.
A rating
Knowledgeable and pleasant to work with.
Spent time figuring out our problem (ice dams and water damage) which happened to be structural. Replaced the roof on the full dormer, correcting the problem and moisture proofing. Done in less than a day and cleaned up as well. Knowledgeable and pleasant to work with.
Sandra G.
The entire experience has been pleasant
The entire experience has been pleasant. Mike was polite and professional. The job was scheduled just a couple of weeks after the contract was signed and they did show up on time. They completed the job in 1 day and cleaned up the yard afterward. The roof looks refresh and neat and the material looks durable. So far I have not complaints.
Wei Fu
A rating
Highly recommend this company
Very professional and friendly. No hard sell or bad mouthing of competitors. Took the time to explain their product, what needed to be done and answer our questions. Generous selection of colors and styles. Worked with OUR schedule, greatly appreciated considering our roof was leaking and causing interior damage. They also went to great lengths not to destroy our flower beds. Meticulous clean up when finished. Appreciated the follow up contact after work was completed. Highly recommend this company. I wish they hung sheetrock and did tree removal.
Michelle M.
Rhino-Back Roofing is a fantastic company and I can't say enough good things about them
Rhino-Back Roofing is a fantastic company and I can't say enough good things about them. I have a beautiful new roof and chimney as of today! Working with Mike is like working with your best friend! He's genuine, friendly, and honest and makes you feel at ease and comfortable. He really cares about getting you the best roof for the best price, and will do anything it takes! We interviewed several roofers and Mike's price was very competitive (actually I think it was the lowest bid even though he had the best Owens Corning materials and warranty). He was very patient with me when I had questions, explaining all my options and the pro's and con's of different methods. When I preferred adding a ridge vent and soffit vents rather than the roof top fan that he recommended, he gave me a price using both methods. I ultimately chose the ridge and soffit vents and his supervisor, Josh cut the soffit vents himself the day before installation. When I thought we needed a few more vents, Josh added 3 more on installation day at no additional charge!. Since a tree had damaged the back eave of the garage, Mike said he'd take care of that for us, and Josh replaced the plywood, back eave and gutter. Josh is an expert craftsman and the result is beautiful! My roof was leaking over my porch and when the tarp we installed failed, Mike pushed up my roof installation date to accommodate me and get the job done. Mike is very involved from start to finish and kept me informed every step of the way. Both he and Josh returned every phone call and text immediately or within a couple of hours. When I woke up on installation day and realized I hadn't asked Mike to include my shed roof, I asked Josh if he could possibly do the shed also. Since they'd ordered extra shingles, they had enough to do my shed and got that done too! The house, garage and shed were done in one day and Josh was on hand all day answering my questions and taking me for a walk around to see the work being done. The roofing crew were professional, courteous and very hard working on a very cold and windy day! I enjoyed talking to them from time to time and was amazed at the beautiful work they were doing. They made sure I had clear access to my doorways as I went in and out during the day, raking away leaves and nails for me. They did an amazing clean up job, even raking all the stubborn leaves from under my bushes along the house. It was like having a fall cleanup crew free of charge! When Josh inspected my chimney the day before installation, he said it would need a rebuild within the year. Since I'd taken out a low interest Energy Conservation Loan from Capital for Change, I wanted get the chimney done immediately in order to add the cost of the chimney rebuild to my loan, which would require completing new paperwork and a few days delay in payment to the roof crew. Mike was completely understanding, patient and helpful, getting me the new paperwork I needed for the loan. He quickly lined up a chimney mason and crew, and within 5 days of the roof installation, the chimney was done (today!). I highly recommend Rhino-Back Roofing with no reservations! Working with Mike was the best experience a girl (or woman with not roofing knowledge) could ask for. Choose Rhino-Back Roofing! You won't be disappointed!
Joanne D.
Rhino-Back is one of the best contractors I've had the pleasure of working with
Rhinoback is one of the best contractors I've had the pleasure of working with. Owner Mike T is very pleasant and professional, and the manufacturer he uses, Owens-Corning, is top-notch. Mike explained everything in detail – roofing materials, the Owens-Corning warranty, and every step of the installation process --- and was the only one of the roofers who bid on the project to actually inspect the attic and crawl spaces to make sure the wood infrastructure was sound. Installation took one day – the crew of seven showed up at 7 am and by 6 pm the roof was finished, all debris was cleaned up, and the house looked terrific. Production manager Josh was on site all day to answer questions, and came back the next day to make sure that every old nail and shingle had been thrown away. You'd think such quality would be prohibitively expensive (and roofing is by nature costly) but Rhinoback's price was mid-range of all the estimates I received. I highly recommend Rhino-Back!
Marilyn S.
" Skillful and very efficient"
Kudos to the entire Rhino-Back Roofing team. Mike and Melanie did a great job for us. Starting at documenting the hail damage with the insurance company to answering all of our questions through out the whole project. The roofing team was careful of shrubs and property, skillful and very efficient through out the installation of multiple roofs on two structures. Management, staff, and tradesmen and women were consistently courteous and accommodating of our needs. Many thanks to all of you.
Roger & Diane H.
A rating
Their entire crew and personnel were very professional and pleasant to work with.
Everything went well. Mike was even patient when we changed a few items a few times. He worked with us the entire time. We felt confident in their ability to meet our expectations and they did. The clean up was also excellent. They even sent someone back after to triple check for remaining nails. Excellent work all around. Their entire crew and personnel were very professional and pleasant to work with.
Pamala C.
We are extremely pleased with our new roof by Rhinoback Roofing.
Out of all of the companies that bid on our roof replacement, Mike was the only one who took the time to explain every detail of the project, including his findings from inspecting our attic and covered porch areas. He thoroughly reviewed with us the superior quality of his product (Owens Corning) vs the shingles and underlayment used by other companies. Our own research confirmed what Mike had shared. The crew was fantastic - thorough, clean, polite, and fast! They completed our large project in a single day. We are thrilled with the results and would recommend Rhinoback Roofing to anyone and everyone. Mike and his team definitely go 'above and beyond' to ensure a high-quality result.
Linda Casey
Quick, courteous, professional staff…
Shout out to local family business, Rhino Roofing, who just put a new roof on for us. Quick, courteous, professional staff…and the roof looks great. Thank you!!!
Michelle V.
I cannot say enough good things about Rhino-Back Roofing
I cannot say enough good things about Rhino-Back Roofing. The level of service and professionalism, paired with the end result, is far beyond anything I could have hoped for with this project. From the very beginning, Mike and his team were available, informative and made us feel part of the family. We just moved into our very first New England home and found we needed a FULL roof replacement. Here are a few points that highlighted the process for me: • Very detailed initial consultation (complete with attic walk-thru). • Convenient and timely scheduling of work (within 2 weeks). • Fair and equitable pricing. • Top of the line products. • Single day full roof replacement and same day clean up. • Amazing end product and follow up that it met our expectations. This final piece is key and speaks to the character of the company and its owner. A few days after completion, I noticed some damage to my back deck. To be honest, I wasn't sure if this was already there but I called Mike to see what my options were and get his opinion. I didn't even have to ask and Mike had someone out to take a look within an hour and called me back that night to let me know he was arranging for someone to replace that portion of the deck! To be clear, this was almost certainly a pre-existing issue due to some natural rotting. However, since the issue may have been accelerated by his crew, he wanted to take care of it. Now THAT is how you build a reputation. Thank you, Rhino-Back Roofing. Thank you, Mike. Zack
Zack M.
A rating
I have never had a better experience than we had dealing with Rhinoback
have been a homeowner for 35 years, and in that time I have hired many different contractors for many different jobs. In all seriousness, we have never had a better experience than we had dealing with Rhino-back roofing. This company is exceptional in terms of service, professionalism, promptness- any measure you want to use. Mike thoroughly explained the work they would do, the materials they would use, and the process in a no pressure at all quote. Josh and his crew had to reschedule due to heavy rain in the forecast twice-and each time called well ahead and scheduled a prompt (i.e. just a few days later) new date. They arrived promptly, worked great and the clean-up was terrific. Looking at the ground you would never know they were here- but one look at the roof and you could tell- it looks great! I teach at UConn and my students will tell you that they get only the grade they earn. Rhino-back earns an A+. I highly recommend them!
Jim T.
Their quality of work was excellent and the job was done in two days
Mike and his team are awesome…highly recommend! We needed a new roof last year after it was damaged from the terrible winter weather. We had leaking in our kitchen and ice dams all over the roof. We looked at a few companies before deciding to use Mike and his team. Mike seemed like he truly cared and didn't treat us as just a number. He was very thorough with his estimate, answered all the questions we had, and even helped us provide the necessary info to our insurance company. Their quality of work was excellent and the job was done in two days. Mike even came back a few times to check and make sure everything was as it should be and our rain guard was working properly. Highly recommend them…look no further, Mike's your guy!
Jaime H.
A rating
Excellent service excellent roofing job great price.
Excellent service excellent roofing job great price.
Marci E.
Mike, Josh and the entire crew are awesome!
Mike, Josh and the entire crew are awesome! They are friendly, prompt, caring and professional. Everything from our initial meeting with Mike to the cleanup after the job was finished was wonderful. They go above and beyond to do the highest quality work possible. We cannot say enough good things about Rhino-Back Roofing and we will always recommend their services.
Melanie Y.
High quality and workmanship!
The team at Rhino-Back Roofing provided exceptional service beginning with the claims process all the way through the installation. The professionalism and courtesy of the office staff, crew leads and supervisors was especially noticeable and appreciated. You will be pleased with the time taken by the company's owner to fully explain their standards of quality and workmanship.
Eric Wallace